There have been some misconceptions in the past few days regarding the nature of the recent protests in Assam and other North-Eastern states. And therefore, some have been shying away from talking about it. Others are misinformed thinking the Assamese people are just protesting about religion, ignoring the whole debate about 'illegal migration'. Here's a deeper look.
While Assam faces an internet shutdown, other Indians are learning more and more about the Citizenship Amendment Act. The Internet itself is offering differing points of view. While some are understanding how the protests in North-East are dissatisfied voices against fall promises, the Twitter handles of prominent Right-wing leaders try assuring us that everything is all right. Some have even gone to the extent of calling this a massive conspiracy; director Vivek Agnihotri (a very 'right' individuals with often wrong assumptions) says that Pakistan is supplying arms to these protesters in Assam and goes on to call the movement against Citizenship Amendment Act, 'Pakistan's revenge for Kashmir'!
But those who can figure out the wrongs, are out on the streets even in Delhi, looking beyond their privilege and uniting for solidarity with the North-East, a region which mainland India has ignored more than often. Yesterday, Jamia Milia Islamia's peaceful march by students and staff to the Parliament wasn't allowed to step beyond the college gates too as the police engaged in lathi charges, and used tear gas to disperse the crowds. Another march took place to Jantar Mantar today.
Contrary to the anger amongst Delhi's youth, the Akhil Bhartiya Vidyarthi Parishad (ABVP) led Delhi University Students' Union, posted a message on their social media handles on 11th December, which didn't surprise many. 'ABVP wholeheartedly welcomes passage of the #CitizenshipAmendmentBill2019 in the Upper House of the Parliament of India. The persecuted minorities from Pakistan, Afghanistan and Bangladesh will now be able to get citizenship of India and lead a life of dignity.'
Clearly, the Citizenship Amendment Bill which now became an Act has a religious background to it, for the Centre which backed it. If you look at it from a simplistic perspective, you would think that the only controversial aspect of the bill as many of you know, is just the fact that Muslim migrants from Pakistan, Afghanistan, and Bangladesh would be denied easy citizenship in India as these countries already have an Islamic majority. The central government in the nation and DUSU out here in Delhi University want you to see the Act only in terms of religion. And obviously, in terms of religion, the Act is biased as it seems to allow persecuted Hindus, Sikhs, and Buddhists from such countries (as if Muslims cannot be persecuted at all in these countries). So, that's how the initial buzz around Citizenship Amendment developed in the cities. #MuslimLivesMatter is trending amongst many Instagram posts and for the right reason.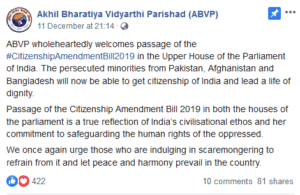 Official post by ABVP
But now, with the rise in violence and chaos, and the deployment of paramilitary in the North-East, we must be informed that it's not the communal angle for which the locals are fighting authority. They are angered by a promise that got broken, proving again that the mainland cares little for them.
To quote an Assamese friend (who wishes to remain unnamed for now), 'Assamese people voted for BJP hoping that the party will remove illegal migrants. But now this selective bias of keeping some migrants, and removing the rest, means that our demands mean nothing for them.' To put it in a nutshell, the inhabitants of Assam and other states of the North-East don't wish to have anyone don't want to provide refuge anymore to illegal migrants.
Whether a person follows Hinduism or Islam, speaks Bengali or Assamese, that is not the first priority for the protesters. All that bothered these protesters was if a person is in an illegal immigrant and all. Early on this year, the National Register of Citizens (NRC) in Assam was riddled with its own problems (many 'true' inhabitants' names were removed while many 'illegal foreigners' made it to the list), but it did offer the locals some hope. Now, with the BJP-led Centre's plan of selectively choosing who will stay in Assam, and who will not, has turned the NRC into a joke.
Again, those who are looking at this issue from their simplistic bubble might interpret the current rage in Assam as 'xenophobic'. But we should take a minute to understand the situation over there. An already overlooked region, the North-East has limited land and limited resources, and cultural identities (note we're talking about cultural identity, not religious identity) of the people here are endangered. They just can't afford to hold any illegal immigrants; such demands and issues have been raised by the region for so long. And what did the North-Easterners get in return for these demands: a joke.
A joke that became a bill and now has turned into an Act.
Hence, if you are reading up about the Act and the rage around it, please don't just look at it from a simplistic understanding. It's not possible to think about what the locals must be feeling there, but try to broaden your thought. After all, even the bespectacled debating lapdog of the Centre has gone against the Centre this time!
Know that the Act is definitely communal, but also heavily exploitative of the demands of a cultural and numerical minority. Today, one section of this country saw its electoral rights being played with to suit the Centre's own agendas, tomorrow it might be your rights, your identity, that might become a joke…
Featured Image Credits- Biju Boro
Shaurya Singh Thapa