With finals over and Christmas-sy vibes all around, everyone deserves to sit down with a cuppa and read a good book as you sip through the warmth of the coffee, whether you're a reader or not.
1. A Christmas Carol
This is the classic everyone should read on/before Christmas. Cruel miser Ebeneezer Scrooge is visited by his old partner, Jacob Marley, and the ghosts of Christmas Past, Christmas Present, and Christmas Yet to Come, and in the process he learns eternal lessons of charity, kindness, and goodwill.
2. How the Grinch Stole Christmas
Disclaimer: the book cover will tell you it is meant for kids aged 4-8 years. Don't be deceived.
The Grinch hates Christmas and abhors the idea of festivities, so in his makeshift Santa get-up, he slithers down chimneys with empty bags and stealing the Whos' presents, their food, even the logs from their humble Who-fires. Trust Dr Seuss for the perfect Christmas tale. The crux of the entire story? Christmas doesn't come from a store, maybe Christmas perhaps means a little bit more.
3. Skipping Christmas by John Grisham
Holiday traditions have been marred with mayhem and madness of shopping lists, wishing people, the hassle of decorating a tree. This is a hilarious take on the contemporary meaning of Christmas.
4. The Polar Express by Chris van Allsburg
This childhood tale has been eternalised by an animated movie. A boy boards a mysterious train called the Polar Express bound for the North Pole. When he arrives there, Santa offers him any gift he desires. The boy modestly asks for one bell from the reindeer's harness. It turns out to be a very special gift, for only believers in Santa can hear it ring. All those festive vibes surround you!
5. Little Women
Based in the 19th Century war period, this is the most heartwarming story of a family of four sisters. It definitely is in this list because of the opening line, "Christmas won't be Christmas without any presents." Read this one if you're up for a tear-inducing tale.
6. What my True love gave me: 12 Holiday Stories by Stephanie Perkins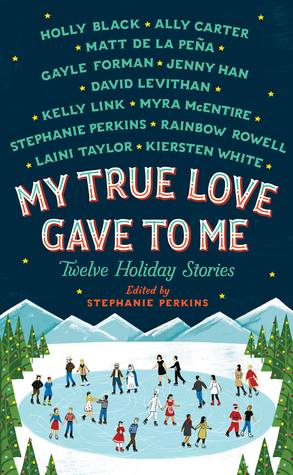 This is the best collection of short stories ever. Contributing authors include the likes of Rainbow Rowell, Stepahnie Perkins, Jenny Han, David Leviathan, among others. Suffice it to say these tales will evoke varied emotions.
7. The Gift of the Magi by O. Henry
You've probably read this story about a woman who wished to gift her husband a Christmas present but has nothing other than her long hair to sell. This classic piece tells the story of a young couple and the sacrifices each must make to buy the other a gift. It's the thought that counts, truly.
8. Letters from Father Christmas by J.R.R. Tolkien
This is the documentation of Tolkien's tradition of writing letters to his children.  One cannot help but admire how authentic and inventive this book is, with even references to the Second World War.
9. The last of the Spirits by Chris Priestley
A retelling of "A Christmas Carol", this is a fantasy fiction. Wouldn't you like a little change from the ghosts of Christmas Present, past and future?
All Image credits: goodreads.com
Featured Image Credits: wpclipart.com
Kritika Narula