At a time when an anticipated Modi wave is the talk of every town, even children's comics are roped in to promote ideologies, parties and above all, leaders. Bal Narendra falls in the last category; the comic, based on 17 'real life' incidents from Modi's childhood only adds to the presidential style of campaigning that the BJP has been carrying out for its PM candidate Narendra Modi. The release of this comic came barely a few days before the release of that other book on our leader of ten years- The Accidental Prime Minister. But while Bal Narendra is a mere children's comic that barely made it to the bookstores unlike Sanjay Baru's controversial book, it is a part of a larger process of promotion and publicity.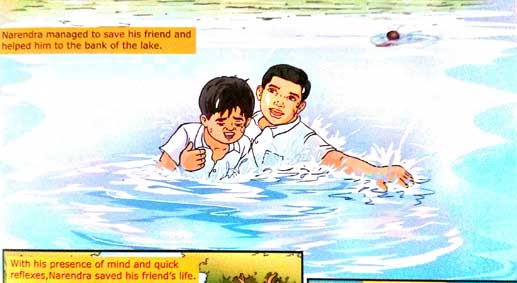 It tells one about how the child Narendra Modi abided by every rule, took lessons from every experience, and emerged as the hero of every little cause and at the same time remained a humble and generous child.  Whether it was helping his father run his little tea stall or nursing his mother to health or saving a friend from drowning or standing up in the face of social discrimination…little Narendra always had the best remedies for every problem. From the disciplined son and the ideal student to the helpful friend and the resourceful champion, he was the perfect boy. And that is problematic.
In today's testing times, when the Gujarat riots continue to haunt Modi even at the peak of his popularity, this image of the compassionate hero seems to be a portrayal stretched too far. Even the gods have faults, or at least in comics. By explaining why simple stories like that of Modi whitening his shoes matter at the end of the comic, the publishers have tried to establish the image of the leader that this country needs. Unfortunately for them, children do not aspire to be as perfect and well, they don't vote either. Why a comic, then? If the highest court in the country has given him a clean chit in the riots, why should a children's comic have to substantiate that? The reason is simple, a comic is but not a mere light read in this context. As mentioned earlier, it is part of a larger publicity scheme, a process of cultural diplomacy, if I may.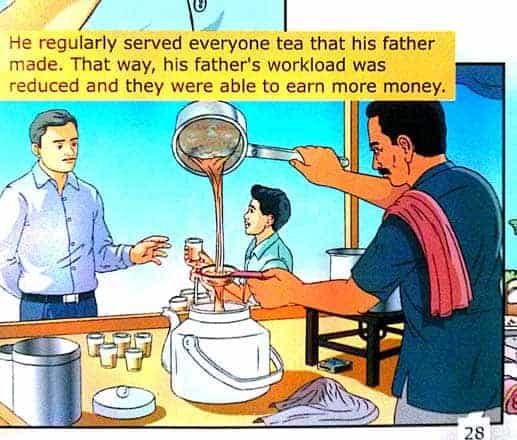 When his mother chides him for having brought a baby crocodile home, Modi learns the pain of separating a mother from her child, when he helps an injured bird fly again, he is hailed as a compassionate boy. His love for his motherland is illustrated by his sense of respect towards those from the forces. The values that these purportedly true stories wish to inculcate are exactly those that parents want their children to grow with. But will they pick up a Bal Narendra over an Amar Chitra Katha? In keeping with the impending Modi wave, if they indeed do, consider the purpose of the comic fulfilled. For it is not to teach children how to learn and look up to the leader but about a sense of omnipresence and power. The message is- he has arrived.