Citing non-cooperation by the authorities as the reason, Dean and Head of Faculty of Law, Professor Ved Kumari resigns.
In a shocking turn of events, Dean and Head of Faculty of Law, Professor Ved Kumari has resigned from her position on Tuesday, 18th June. 
Professor Kumari, who assumed the post on September 2nd, 2016, resigned three months prior to her term-end, citing "non- cooperation of the University authorities and illegal/ arbitrary actions of Professor-in-charge, Campus Law Center."
In her letter addressed to the Vice Chancellor of the University, she writes, "I regret to say that despite doing my best, I have not been able to succeed and secure the best interest of the Faculty of Law in the last two years and nine months."
In her letter, she made some shocking revelations which lead to her resignation.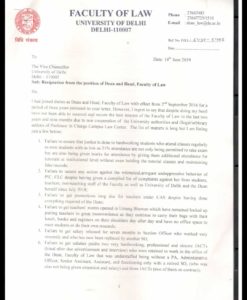 She accused the institute and the authorities for allowing students with even 31 per cent attendance to take exams, and in this allowance, serving injustice to the hardworking students who attend the class regularly.
She also revealed that fake records of tutorial classes were maintained in the institute.
According to Professor Kumari, she has "repeatedly felt embarrassed and humiliated at no action and no response," to her calls, letters, personal meetings as the Dean and Head by the University authorities, when asked for necessary action to be taken.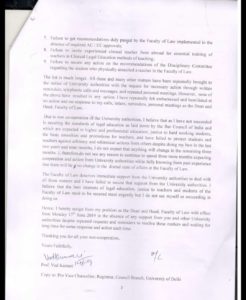 She believes that nothing will change in the coming three months and thus, she has decided to resign before her tenure ends.
Speaking to the dismal state of affairs at the Faculty of Law, she says that the institute deserves immediate support from the authorities to deal with the numerous issues hovering over it.
This is not the first time that one of the most prestigious law institutes of the country, Faculty of Law, has been embroiled in a controversy.
Last year, the institute came into the media's scanner after LLB entrance exam and LLM semester exam papers were leaked.
Feature Image Credits: DU Beat archives
Shreya Agrawal