Students of the Campus Law Centre (CLC) protested against the unjust students' elections to elect the Internal Complaints Committee (ICC) for sexual harassment.
According to the students of the institute, the tier-1 selection wasn't conducted according to the rules. The tier -1 selection consisted of appointing of Class Representatives for the ICC, which was done without providing full knowledge to the students who weren't properly informed about the procedure. The students nominated their CRs for normal activities of the department just like in any other institute of the University of Delhi(DU), but to their utter surprise, there was more to the activities of CRs something which the concerned people i.e. the students themselves weren't made aware of.
Shivank Trivedi, the Vice President of CLC's Students' Union said, "In September, the University had asked the departments to select the CRs for the ICC. These CRs are different from the CRs elected for coordinating the day-to-day matters. But our centre did not notify this. When Law Centre-1 uploaded the matter on the website and issued a notification, we got to know about it. We tried to raise the issue with the authorities."
According to sources, students are not in favour of the nominees appointed for the formation of this gender panel as they were elected in an unjust manner.
"On November 6, the class representatives received an email and were asked to assemble in the teachers' common room on November 7. The email didn't specify any purpose. They called the general CRs and conducted the elections in a deceitful manner without any prior notice, " said Trivedi.
The students have registered their complaints against this manifestation of unlawful practices with the Dean of Students' Welfare, and the Proctor's office.
On Monday, the students will engage in a protest against the same demanding fair conduction of the election according to the legal procedure.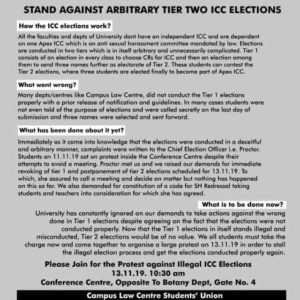 Students strongly believe that the formation of the ICC is a highly sensitive matter as the panel acts as the moderator between the students and the authorities. They feel cheated on not being given full disclosure about the purpose of the selection of the representatives.
"In CLC, the first process has only been flouted, resulting in many students not even knowing about the ICC. We are just being given assurance but nothing concrete has taken place and the election is scheduled for November 13, we only have a day to time to ensure that everything is done as per the law", said Trivedi.
Feature Image Credits: DU Beat Archives
Avni Dhawan