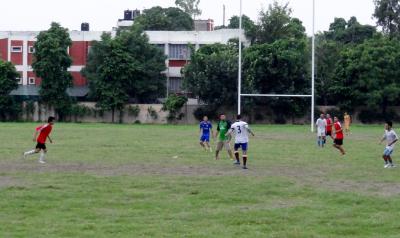 This admission season, as per university guidelines, ECA aspirants will not get more than 15% concession from the last cutoff for a specific course in the general cutoff list. Till 2011 there was no minimum eligibility criterion for students successful in ECA trials. It is being said that putting a bar on the concession in academic merit will prevent backdoor entries in colleges and hence a maximum of 15% concession in the cutoff has been introduced.
a) Super Category: Direct Admission by the College without Trials

Sports  persons  who  have  participated / represented  the  country  in the following competition(s):
Olympic Games by  International Olympic Committee

World  Championships  under  International  Sports  Federations (IQA  and/or MYAS recognized / affiliated Games)
Asian Games by Olympic Council of Asia
Asian Championships organized by International Federation of concerned game / sport (recognized/ affiliated by MYAS and / or lOA)
Commonwealth Games, S.A.F. Games and Afro-Asian Games
Paralympic Games (recognized/ affiliated by IOC and / or MYAS)
b) Admission  based on Sports Trials
Maximum 50 Marks for Sports Certificates
It is essential for the candidate to qualify any One of the following Fitness Test items for Archery, Chess and Shooting and any Two of the following Fitness
Test  items for  other  Games/Sports  as  per the standards  laid down  by the university (for the general fitness):
| | | | |
| --- | --- | --- | --- |
| 1 | Strength | Standing broad Jump:1.65 mts for Men1.15 mts for Women | Three attempts allowed |
| 2 | Endurance | 1000 mts Run / Walk:5.00 mm   for Men6.00 mm    for Women | One attempt allowed |
| 3 | Speed | 50 mts. Dash:8.00 sec. for Men9.00 sec. for Women | One attempt allowed |
A candidate who qualifies the Fitness Test will be issues a certificate by the concerned college. This certificate will be accepted by other colleges too.
A maximum of 50 marks are allotted for Sports Trails, which includes skills test, game performance test, game specific fitness, fundamentals of the game/sport etc. A minimum of 18 marks are required to make a candidate eligible for sports admission. Schedule for the sports trials can be accessed from the website of individual colleges.

Image Credits: Additi Seth
[email protected]