The Human Development report released earlier this month indicates that India climbed one spot to 129 among 189 countries in the 2019 human development index (HDI). The report by UNDP also highlights that new forms of inequalities will manifest in future through climate change and technological transformation which have the potential to deepen existing social and economic scenario of the country. 
Despite India being one of the 'emerging economies' of the world, and its impressive economic performance after the introduction of economic reforms in the 1990s, progress in social reforms has been slow and uneven. Large inequities between different sections of the society continue to exist and have even widened across states, between rural and urban areas and within communities. Inequities in the diverse society of India may have persisted due to three primary reasons-
Historical inequities that have their roots in the policies and practices in British Colonial India, which continue to be pursued even after independence.

Socio-economic inequities manifest in caste, class and gender differentials. 

Inequities in the availability and affordability of the resources and facilities. 
The higher the level of human development, the greater the access to technology. The digital revolution has moved fast and had an enormous impact, but it is far from universal. In 2017 almost 2 billion people still did not use a mobile phone. And of the 5 billion mobile subscribers in the world, nearly 2 billion—most of them in low- and middle-income countries—do not have access to the internet. In 2017 the number of fixed broadband subscriptions per 100 inhabitants was only 13.3 globally and 9.7 in developing countries, and the number of mobile broadband subscriptions per 100 inhabitants was 103.6 in developed countries compared with only 53.6 in developing countries. Inequalities are much greater for advanced technologies, such as access to a computer, internet or broadband. (HDR 2019) 
The convergence in basic technologies, such as mobile phones, has empowered traditionally marginalized and excluded people. But digital gaps can also become barriers not only in accessing services or enabling economic transactions but also in being part of a "learning society." 
The empowerment of traditionally marginalised and excluded people is a good example of how affordable and simple technology has interspersed with the rural population of India. 
Visiting one of the villages in Goa, I met Chandravati. A rural woman living in a kutcha house in Wadaval village. She lost her husband at a young age, and life has not been easy for her. She does not belong to the so-called upper caste and the deeply rooted caste system of the village deprived her of education and other basic necessities.
 Chandravati says (translated in English), "Being a woman is not easy. I take care of my house and family and work in the farms of the local landlord. There are so many restrictions and traditions of the village, but we never questioned them. What will people say if I do so?" She falls in the below poverty line category and runs her house in whatever government aid she gets along with her meagre income.  She adds, "I got a mobile phone recently and my daughter taught me how to use it. It has made life easier as I can call relatives now and don't have to depend on the landlords to do so. Moreover, I can call the ambulance immediately in case of emergency now and don't have to depend on others."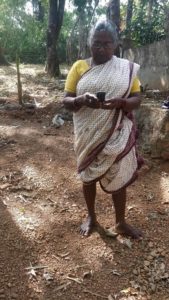 Chandravati using her phone
It is not only Chandravati but many marginalised and poor people in India who have benefitted through the technology. However, a great digital divide persists in the same village in the type and amount of technology being used based on caste, income and education levels. With the world moving towards advanced technological changes, with artificial intelligence shaping the world, the persisting digital divide would deepen. The new forms of inequality highlighted in the Human Development report 2019 mentions that the groups with lower human development have systematically less access to a wide range of technologies. In such a scenario, human development has to be targeted at a faster pace in India and their foundation has to start from rural India. A bottom-up approach would help in catching up the digital divide which is expected to deepen if right policies and interventions are not taken systematically. 
Feature Image Credits: Sriya Rane and PSBT
Sriya Rane