As another bride walks down the mandap, adorning a Sabyasachi Bridal Wear, somewhere out there, the founder Sabyasachi Mukherjee, makes another sexist comment. With a history of subsequent problematic comments, we now know his definition of a Sabhya naari. 
Popularly known as the man who revolutionised Indian bridal couture, Sabyasachi's distinctive style is a blend of Indian traditional dressing on the modern-day woman. With several accolades to his name, "Sabyasachi-bride" is the new societal superiority norm. With that amount of influence over the global and Indian wedding market, he's bound to have a heavy audience following and social media presence. 
The official Instagram handle of Sabyasachi showcases his creation on models (read: superficial women) and some of his personal thoughts, occasionally. Quite recently, he garnered major flak due to his statement on overdressed women, caked with makeup and the deep void in them. Implying a highly problematic notion that, 'overdressed' women use dressing up as a coping mechanism to cure their 'wounds'. A woman requires no reason, per se, to dress up. Even though he provided an apology, the Instagram army wasn't ready to accept his explanation. Well, how does it even matter if a woman is overdressed, underdressed or naked?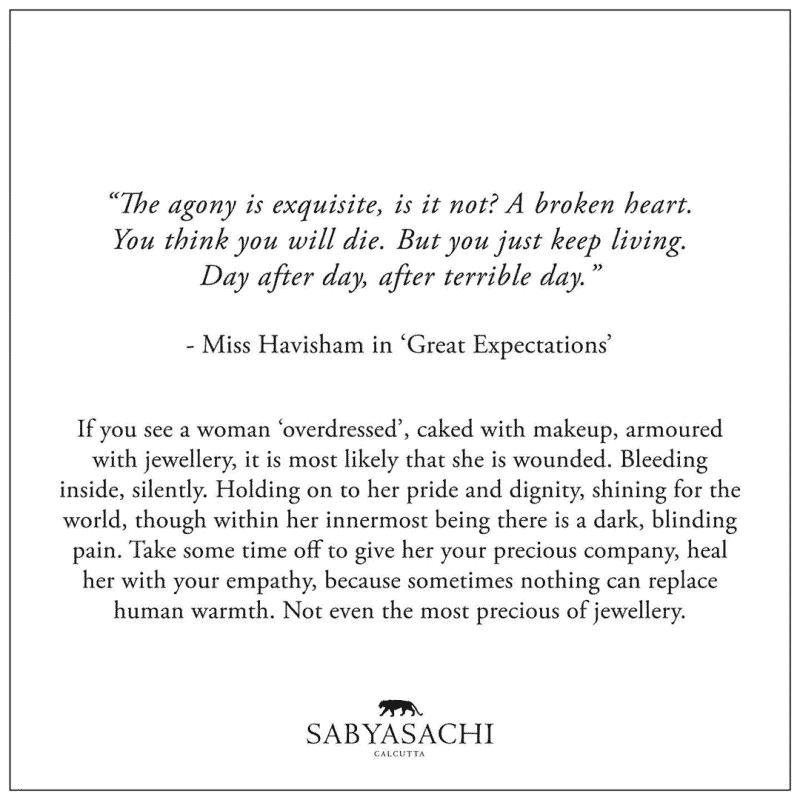 Nandini Sukhija, a student of Mumbai University, says "I find it bizarre for a designer to judge women who like to dress up. Whether or not to accessorise is a personal choice and not a reflection of one's struggles. I was never in favour of idealising the standards of beauty like designers often practice. His sexist remarks only further deter me from even considering designers like him when it comes to making purchases."
On International Women's Day, a post celebrating "self-confidence" was uploaded with courtesy to a plus-size model in his lehenga, glowing in her dark skin with a plunging neckline; so much for "inclusivity" and brand promotion. Sabyasachi is infamous for his models portraying the fair, lean and thin women- the conventional definition of the Indian beauty. Using a woman who doesn't fit into the sphere of the "ideal woman" is always celebrated, but not in the context of promoting self-confidence; it just implies that someone who doesn't look like what society expects them to, is burdened, resulting in having a staggeringly low-confidence.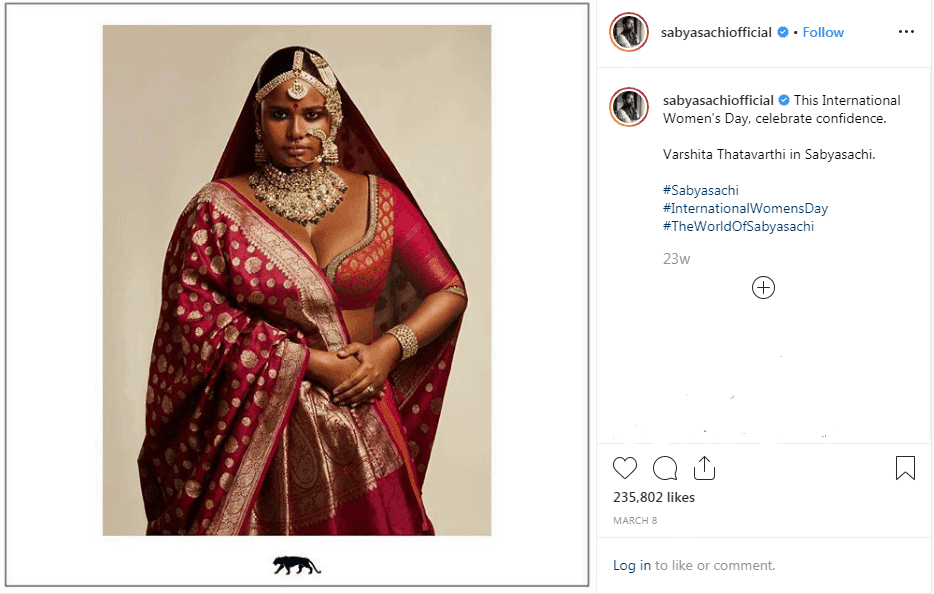 Devashree Vaidya, a student of Psychology, states, "I think of him as a man who reeks of disguised misogyny, coupled with an intense amount of saviour complex. I believe he's a person who believes it's his duty to enlighten people about their own feelings and desires." 
His blatant sexism exists beyond the social media world. At the Harvard India Conference in 2018, the designer said, "I think, if you tell me that you do not know how to wear a saree, I would say shame on you. It's a part of your culture, you need to stand up for it." Savarna cis-men have long been dictating cultural norms and traditions on women. Even though he had issued an apology for saying "shame" in his statement, but as they say, Freudian slip never lies. A time when women's clothing and choices are still dictated by unasked opinions; no bonus points for guessing which era we live in.
Sabyasachi deals exclusively with women's clothing and as a designer of his stature, he must keep up with fourth-wave feminism. His series of sexist comments is a deeply conditioned mindset regarding what an ideal, docile Indian woman aka Sabhya Naari should reflect. Time and again he has provided apologies for his mishaps, but how much is too much? How long will we tolerate and continue growing up his sales whilst writing articles against him? 
Feature Image Credits: NDTV
Image Credits: Sabhyasachi's Instagram
Anandi Sen