On 15th May, 2019, a girl named Paridhi (@the_centaur on Instagram) posted a series of stories, revealing the cyber harassment one of her friends faced while applying for an internship on Internshala.
Internshala is one of India's largest website providing students with ample opportunities for internships at different companies across the country. As of 2018, the platform has 3.5 million students registered and 80,000 companies associated with them.
On 15th May 2019, a girl named Paridhi uploaded stories talking about the kind of cyber harassment one of her friends underwent with regards to an internship offer from a company named Zvaari.com. Paridhi's friend went on Internshala to look for an internship, and was contacted by a person from the aforementioned company, who made claims about working with graphics for Nike, Facebook, and Apple. But, to her, these did not add up to the information present on the website. The person also asked her for a deposit of INR 2,400 to provide her with a secure laptop for work purposes, claiming that the money would be refunded. After realising that this offer did not sound safe, the girl decided not to go for the internship.
Thereafter, she received explicit and inappropriate images and messages on her WhatsApp. After multiple such complaints were reported to Internshala, they mailed applicants an advisory note to inform them that they have blocked the company from using their platform as the company "violated their policies". Unhappy with such a response, Paridhi used her Instagram account to post her disgust for this issue and she gathered support from her followers to repost her stories so that Internshala would take some concrete action.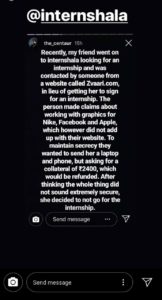 Paridhi's stories garnered an immediate outrageous reaction and Kavya, a worker from Internshala, went ahead to message a private apology to her. She updated her on the situation and told her the actions Internshala is willing to take to further strengthen their verification procedures, in order to avoid anything like this in the future.
When DU Beat contacted Kavya, she responded by stating, "This is a very unfortunate incident and no student should have to experience this. We deeply apologise to the students for the extremely poor experience. We have a huge sense of moral responsibility towards our students and while we are handling this issue, we are also looking on ways to strengthen our internship authentication process further so as to avoid any such issue in the future." She also went on to elaborate the verification procedure undertaken by Internshala, and added that in this particular case, the employer had registered from an official email address, had provided a functional website link, Facebook page, and his phone number was verified via a one-time password (OTP) so that he could be traced if required. Kavya went on to add that Internshala has acknowledged the student's complaint and, as per the standard operating procedure, has blocked the employer account on the platform and sent an advisory email to all the other applicants of the same internship. She also stated that given the gravity of the situation, they are also exploring possible legal actions that can be taken against the employer and have informed the student about the same. She stated, "We are deeply pained by this incident and are committed to providing all necessary support to the affected students."
This form of cyber bullying and harassment has increased over the years. Girls receive explicit images, texts, and even rape threats on their personal mobile numbers. For it to happen via a seemingly secure platform, popular among the youth, like Internshala speaks a lot about the lack of cyber security, as well as the sexually violent and frustrated mindsets of men who feel safe enough to harass girls under the veil of technology. Such acts of oppression against females are examples of power struggle and hypermasculinity girls all over the world are fighting against.
Social media, in such cases, has turned out to be a boon in some cases by empowering the violated ones to speak about the problems. These people, or their well wishers, have fortunately come up, sharing their stories of such unfortunate instances on their social media platforms and garnered support from people. More power to these young women who are not shying away from taking a stand, going out there and telling their stories. It is a jarring world and support does change things.
Feature Image Source: Instagram account of Paridhi (@the_centaur)
Sakshi Arora