<![CDATA[
23rd January 2015 marked the 118th Birth Anniversary of Indian revolutionary and nationalist, Netaji Shubhash Chandra Bose. Integrated Talent Development Mission (ITDM) held its annual event 'Yeh Desh Hai Veer Jawano Ka' to commemorate Netaji's Birth Anniversary and to present the most awaited 'Yuva Pratibha Samman' award at Sir Shankar Lal Concert Hall, North Campus, Delhi University.
Minister for Information and Broadcasting (State), Mr. Rajyavardhan Singh Rathore was present as the Chief Guest and Commonwealth Games' gold medalist and Indian boxer Akhil Kumar was the Guest Of Honor. The event was also presided over by Professor Dinesh Singh, Vice Chancellor, Delhi University. Umesh Rai, Director of South Campus and Dr. Malay Neerav, Joint Dean, Student Welfare of Delhi University were present as special guests.
[caption id="attachment_29084" align="aligncenter" width="756"]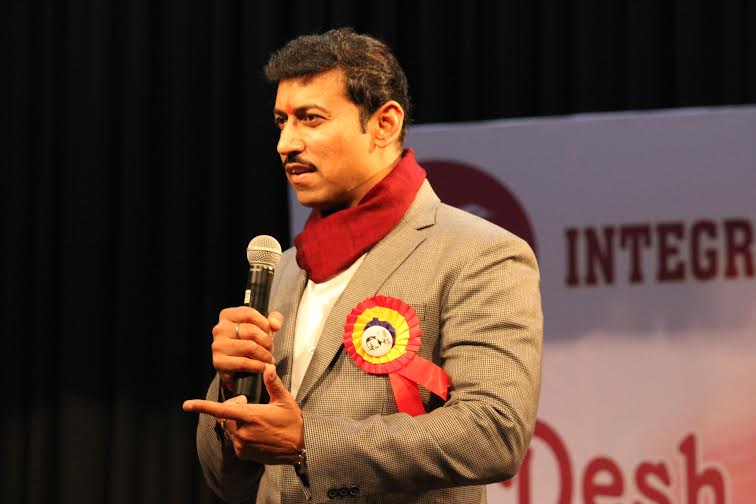 Col. Rajyavardhan Singh Rathore[/caption]
The program began with the lamp lighting ceremony by the Vice Chancellor. This was followed by a Saraswati Vandana which was performed by students Maithili Takhur and Rishabh Thakur from the Bal Bharati School, Dwarka. Maithili's voice and Rishabh's performance on the tabla was appreciated by the guests.
After the felicitation ceemony, General Saigal, President (ITDM) talked about the mission of the organization and 'Jhalak Poorvottar' which is a mega cultural event organized by team ITDM. "This cultural event is organized to create a pool between the people of North East and the rest of India and to spread the message 'our culture is our identity", he said.
Following that the 'Yuva Pratibha Samman' award was presented to Assam's Wrishiraj Kaushik who is currently a visiting professor at IIT Guwahati for his work on 'Super X', an operating system he developed in 8th grade. Mr. Rajyavardhan Singh Rathore arrived a few minutes into the program just after Vice Chancellor's and Akhil Kumar's speech. This was followed by a performance by the students of the Manipur who put up a yoga act on stage. World renowned artist Baba Satyanarayan Maurya also gave a musical  and painting presentation.
ITDM was constituted in 2012 by a group of youth to harness the vast potential of our country and bring about positive changes in the society. It is a social organization currently active in 17 states and has been doing work focusing on North-East India since the last few years.
Image Credits: Ankit Kumar Meena
Arindam Goswami [email protected]
]]>