The 113th edition of French Open, 'French Open 2014' held at Stade Roland Garros in Paris concluded on Sunday with Maria Sharapova and Rafael Nadal taking the championship home in their respective categories of women's and men's singles.
The women's singles final was held on Saturday where the Russian Maria Sharapova emerged as the winner beating the Romanian Simona Halep in a three-set match. This was the 27 year-old Sharapova's second French Open title and her 50th match overall that she had won in the Roland Garros, more than in any other Grand Slam.
Sharapova claimed that it was the toughest final she had ever played after the match, which ended with the score 6-4 6-7 6-4. Sharapova was the favourite for the title after Serena Williams and Li Na both made early exits from the competition. However, her path was not easy as she had to come back after losing a set in successive matches to beat Sam Stosur, Garbine Muguraza and Eugenie Bouchard.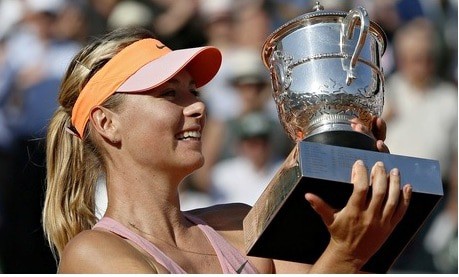 In the men's singles final, it was the Spaniard, Rafael Nadal who, once again, took away the title in a match worthy of a final. Nadal lost the first set to Novak Djokovic and then won straight sets 7-5 6-2 6-4. This was Nadal's ninth French Open title in ten years, safe to say he was a born clay-court player.
Rafael Nadal will take over the World No. 1 spot as well in the WTA rankings after the win. Rafael Nadal overcame Andy Murray in the semi-finals while Novak Djokovic had to defeat the 18th seeded Ernsts Gulbis.
Rafael Nadal becomes the only person to win a Grand Slam 9 times in lawn tennis history!
Images Courtesy: The Guardian, espn.co.uk