With "Where I is the change" as its motto, Jesus and Mary College hosted its very first MUN on the 24th and 25th. The maiden edition of the event turned out to be very well received, with over 300 participants from a number of colleges.
The conference, which was spearheaded by a team of seasoned MUNers, displayed an impeccable level of debate and decorum and encompassed five committees. The United Nations General Assembly – Plenary discussed ballistic missile proliferation with a special emphasis on the Hague code of Conduct, the United Nations Human Rights Council, and the United Nations Security Council had their agendas as 'Capital Punishments and the Implementation of Safeguards Guaranteeing Protection of the Rights of those Facing Death Penalty' and 'Militarization of the Arctic' as their agendas respectively. But the inclusion of World Trade Organization and Parliamentary Standing Committee on Home Affairs set JMCMUN'14 apart. The WTO focused on International Product Dumping Practices and the latter reviewed the legal provisions pertaining to sexual assault in the aftermath of the Delhi rape case.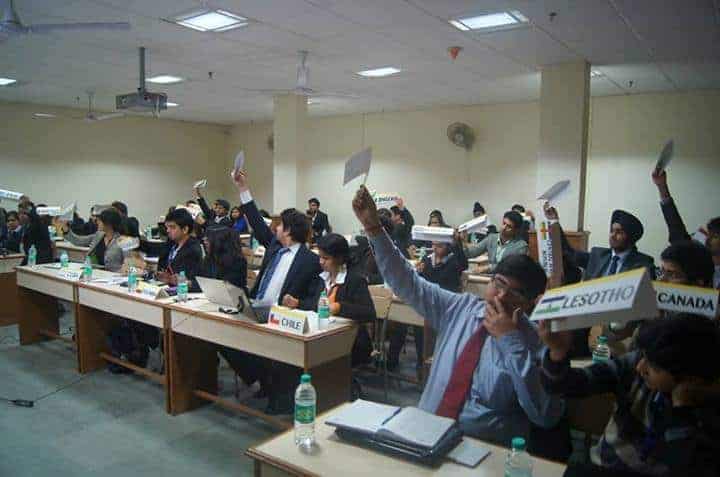 The executive board saw reputed MUN personalities Arindam Som, G.S. Chaitanya, Hisham A. Rizvi, Abhinav Verma and Akriti Bhatia leading their committees with Manisha Massey presiding as the Secretary General and Geetika Nagpal as the Deputy Secretary General. The International Press did exceptional work under the guidance of Pallav Kumar Singh and Tejinder Pal Singh as the head of Photography.
The delegates were seen enjoying the food and an option of dressing in Indian formals was also given in the spirit of Republic Day. The event ended on a high with Sankalp Sharma, Sasha, Part Gauri, Animesh Mohan and Rohan Joshi winning the top accolades in their respective councils and the team from Lady Shri Ram College receiving the trophy for the best delegation. Brij Pahwa, who was part of the Parliamentary Standing Committee on Home Affairs said, "JMC gave what was expected from it. The conference was of an optimum level and everything was pretty well organized. A good level of orators and an experienced executive board was the cherry on the cake."
Image credit: Vanshaj Mehta