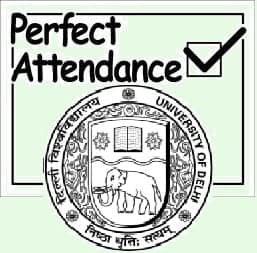 Last month, the court had issued a notice to DU authorities after a PIL was filed by the Indian Council of Legal Aid and Advice, seeking to introduce a biometric system to register the attendance of lecturers and other teaching staff of the university. The PIL said that the attendance system should be introduced to ensure that a teacher "adheres to the teaching hours and days prescribed by the UGC and the university rules". As per the UGC norms, the workload of teachers should not be less than 40 hours a week for 180 teaching days, apart from being available for at least five hours daily in the college. The working hours actually put in by a lecturer in Delhi University daily are just about three and half hours per day currently.
The affidavit filed by the registrar said: "The University of Delhi is committed to adopt and implement measures which are favourable and beneficial to the university system as a whole, such as the biometric system of attendance for its teachers in order to ensure their presence in colleges and ensure the participation of all teachers in the teaching/learning process." Emphasising on the perquisites of teachers the affidavit read, "The teachers after the implementation of sixth pay commission have lucrative pay packets and are expected to fully justify the trust and confidence reposed by the society on them by working tirelessly for the betterment of the taught so as to prepare them for facing the challenges of life with confidence and knowledge." The plea also stated that it seemed that the university was not implementing the biometric system under pressure from teachers' unions. The university had tried to introduce the system in 2009, but had to hastily withdraw the order after Delhi University Teacher's Association (DUTA) went on strike in protest.
This time around however, Delhi University has assured the Delhi High Court that it would adopt and implement the biometric attendance system for teachers to ensure punctuality. Following the assurance, the court disposed of the plea saying, "On the assurance given by the university, the court hopes and expects that biometric system of attendance would be introduced expeditiously." The teachers are not expected to stall the move, which is aimed at uplifting the standards of teaching facilities.
Sakshi Gupta
[email protected]