Amidst a great deal of anxiety and excitement, Venky's elections took place on Friday, the 14th of September. Leading up from the intense campaigning of the previous weeks, which included showers of pamphlets being thrown on the students, vote appeals between classes and allegations of bribing voters; it would be sufficient to say that this voting season was full of surprises.
The results were declared soon after the booths were closed and were as follows – Mandeep, a third student of Physics Honours was declared President, Sachin Mann a first year student of B.A Programme the Vice President, Sagar Gupta the General Secretary, Manisha Thakran a second year student of Physics Honours the Joint Secretary and Sanjay Rawal a third year student of Chemistry Honours the Central Coordinator.
All four were exhausted from campaigning but ecstatic at their victory. Said Mandeep, newly elected President, "The credit goes to my friends who supported me at every step of the way, I wouldn't have been able to do it without them. It was my goodwill and that of my friends that ensured my victory." In response to a question about work to be undertaken he replied, "I want to start a forum wherein CR's of the classes can talk to the cabinet regarding their problems and in this way we can be in touch with all courses. Moreover, renovation in the canteen, better administrative practices and arranging for a special hostel for sportspersons is on the agenda."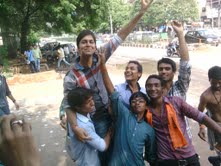 Vice President Sachin felt that recognition and help from the authorities would be vital for the success of the cabinet. Joint Secretary Manisha agreed with the administrative problems and added, "There are a lot of problems with respect to infrastructure in college that we want to address. The base of which is to ensure working fans and lights which are sometimes ignored and not maintained. Also, we want to start a department library in the Arts Block (a library which caters to specific courses and books can be issued for the whole semester). Apart from that I want to see a bigger and better Nexus 2013." Joint Secretary Sanjay has a two point agenda. He said, "As of now, there are two things we want to do. First to try and get a lift constructed for differently abled students, who face problems if their classes are held on the upper floors and secondly, get the library hours extended as those courses where the classes end late are not able to avail of the services."
It remains to be seen how many of these promises the new cabinet can deliver, as of now however they all seem optimistic and ready to face any obstacles that bar Venky from becoming truly world class.
Riddhi Dayal
[email protected]