With media coverage of the 2016 Olympics rife with sexism, it's time to call out the perpetrators and resolve to treat female athletes better.
The 2016 Olympics has not been short on controversies or things that got people talking. From Phelps winning 28 Olympic medals and breaking records to his team-mate Lochte getting entangled in legal hassles for alleged vandalism, from Simone Biles' feats in Gymnastics to Deepa Karmakar and P.V. Sindhu making history for India, all this with numerous doubts about Rio as an Olympics location in the background. Another major talking point during the Olympics was the incredibly sobering reality about gender equality revealed through numerous instances of sexist media coverage by major newspapers and news portals.
In a move that wasn't just bad journalism but also generally nonsensical (but strangely not uncommon), The Chicago Tribune announced Corey Cogdell's bronze medal win in the women's trap shooting event by citing that she was the wife of Bears' lineman Mitch Unrein. The Olympic medallist's name didn't even originally figure in the headline of an article about her win while her husband's name did. Corey's name was added later after backlash on social media. The situation made as much sense as it would have if Nicole Johnson, Michael Phelps' fiancée, was congratuled for his wins, which is exactly what several news portals online did in online to prove the point.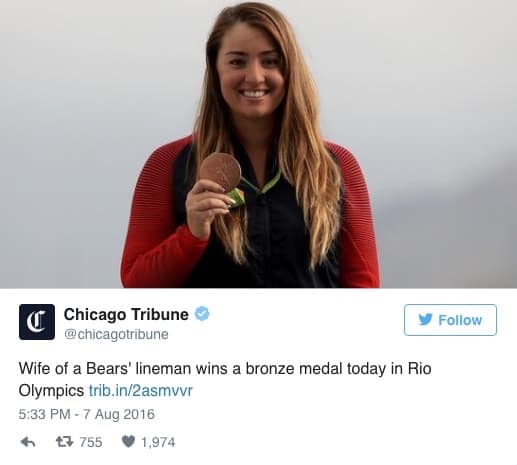 Simone Biles emerged as a star, dominating almost all Gymnastics events, yet was reduced to being called "the Micheal Jordan of Gymnastics" by the People magazine. Biles weighed in on the comments comparing her to successful male athletes in other sports by saying, "I'm not the next Usain Bolt or Michael Phelps. I am the first Simone Biles." The statement, simple enough, also makes an important point – it is enough for female athletes to be acknowledged as successful by themselves. They needn't be labeled as female versions of their male athletes for their achievements to count.
Other damning evidence came in the form of an actual debate by male sports presenters on Fox Sports on whether or not Olympic athletes should wear makeup, with one of them saying, "Why should I have to look at some chick's zits? Why not a little blush on her lips? And cover those zits! I like to see a person who wins that gold medal go up there and look beautiful." While it's amusing and horrifying in equal parts that Arnab Goswami's Newshour isn't the only redundant news debate segment around, one can't help but be appalled at the amount of male privilege that the presenters enjoy that made it possible for them to criticise actual Olympic athletes about their looks, which is possibly as least possible a matter of concern to an Olympic athlete as it can get. Looking pretty is not something female athletes, or women in general, owe to anyone in this world.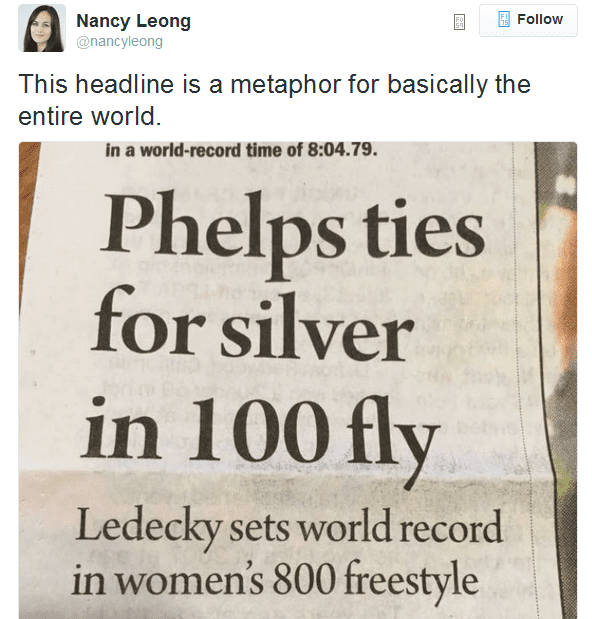 These instances aren't all. A recent picture has been doing the rounds of social media wherein Katie Ledecky's world record win is the sub-heading of an article, as opposed to the headline of Michael Phelps not winning his race, which was tweeted by a woman with the caption, 'This headline is a metaphor for basically the entire world.' True words, indeed, when media across the world would rather focus on literally anything else other than achievements of female athletes.
While the sexist media coverage of the Rio Olympics definitely grabbed eyeballs, it is far from the first or the only time female athletes have been undermined despite excelling at their respective sports. It's the same as women getting paid $0.75 for every dollar that a man makes, and being treated as second-class citizens. While the Rio Olympics will soon be over, they need to become a turning point in media culture towards recognising that media (and hence narratives of women in the media) is still mostly controlled by white men, and that female Olympians and the women of this world deserve to be treated better, and that the people of this world deserve better journalism.
Image credits: cbc.ca
Shubham Kaushik