After the declaration of results, several rounds of admissions to follow in the supernumerary seats of the ECA category.
On Monday, 15th July, the University of Delhi (DU) announced the schedule as well as detailed guidelines for aspirants seeking admission to its colleges under the Extra-Curricular Activities (ECA) quota.
The University conducted the Preliminary rounds of trial for fourteen categories of the ECA quota from 25th June 2019 to 5th July 2019. The results of shortlisted students to appear for the Final round of trials was released on 6th July 2019 and the Finals were conducted from 9th July 2019 to 14th July 2019.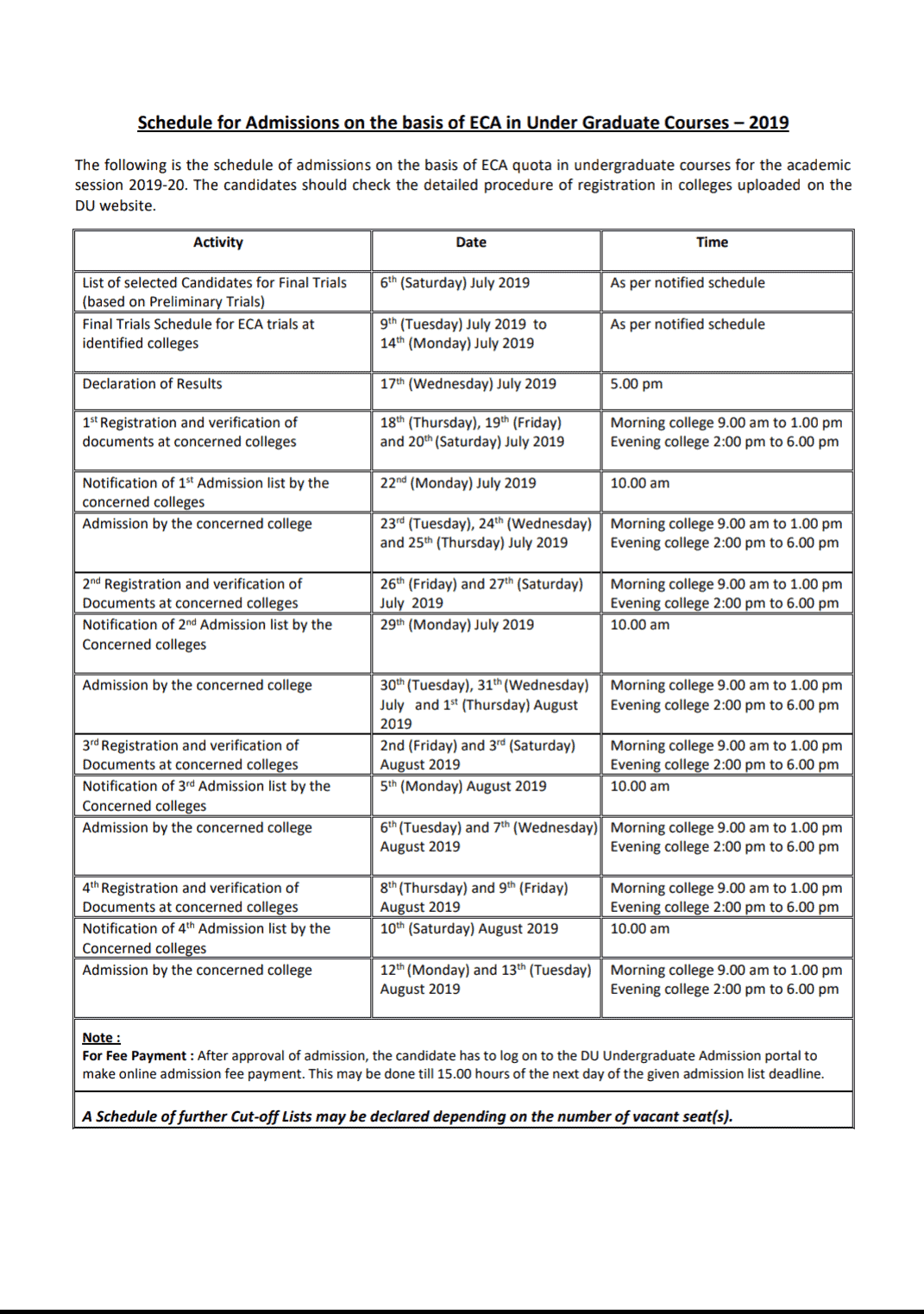 According to the recent information uploaded on the DU website, the result or the merit list prepared after the Finals, will be notified on 17th July, 2019 at 5 pm. After which, there will be several rounds of registration and admissions for candidates whose names figure in ECA Merit Lists – four rounds have been scheduled so far. Aspirants should note that each college will conduct its registration process separately, and that there is no centralisation of this process. Therefore, they will have to apply separately to each of the colleges they are seeking admission to, during each of the registration and admission rounds.
The first round of registration is scheduled from 18th July 2019 to 20th July 2019, and the colleges will release their first notification of admitted candidates on 22nd July 2019 by 10 am. The candidates who secure admission in each of the rounds of admission, are required to pay their fees on the DU portal by 3 pm on the next day of taking admission.
There are 1,050 seats up for grabs under the fourteen categories according to the DU's Bulletin of Information for candidates seeking admissions to Undergraduate programmes. The varsity has also specified that a maximum of five percent of the total seats in a college have to be put up for admission under this category.
Lastly, the aspirants seeking admission under ECA must keep in mind that they are required to carry all relevant documents in hard copy for the admissions procedure, and will also have to sign a bond on a non-judicial stamp paper, committing to take part in that ECA activities of the college, throughout their stay in college.
Feature Image Credit: Rishabh Chauhan for DU Beat
Bhavya Pandey