As part of their Women's Day campaign, Team Sanitation Solutions organised various sessions in 14 slums and villages across Delhi-NCR, Haryana and Rajasthan on 8th March, 2014. A similar camp will be conducted in Rajasthan on the 10th.
In the first session, the focus was on various health issues faced by women, primarily menstrual health and pregnancy. The objective was to dispel all myths and taboos associated with menstruation and to encourage the use of sanitary napkin. The team also shed light on the Right age to get pregnant, the use of contraception, Unsafe sex and sexually transmitted infections, Schemes being run by the Government for free delivery and several other issues.The aim was as the members of Team Sanitation Solutions say "to make women emerge as confident individuals and to take pride in the concept of womanhood."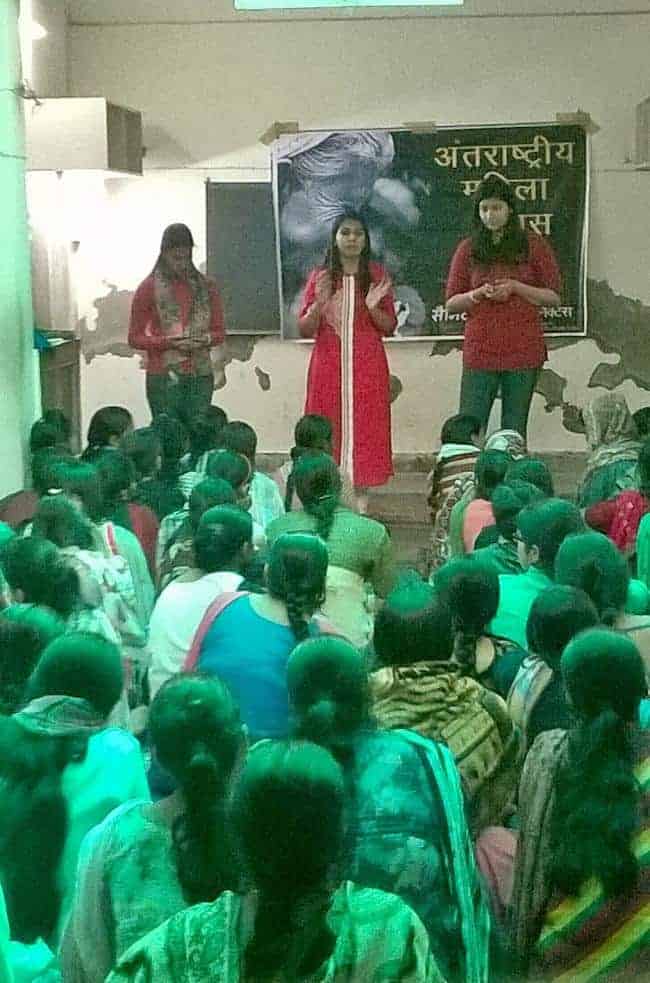 The second session laid emphasis on community building activities. Teams of 5-6 women each were made to compete in an fun filled art and craft competition.  The basic aim of this activity was to give women firsthand experience of working in a team, to make them accept the challenge of working with completely new faces as a single unit.
The third and the final session featured motivational and inspirational slides to make women recognize their importance in the building of a society.The purpose was to instill a feeling of self-confidence in them. Women were encouraged to step forward, put a hand print with pink paint on white chart paper and sign against their name. Because the session focused on hands and the work they create, four pink bangles were distributed as symbolic possession. 
The participants were not just recipients of knowledge. They sang  folk songs and encouraged the volunteers and team members to join them, which became a learning experience for them as  well.