<![CDATA[The academic year of 2014-15 saw many colleges organise their sports fest where different colleges won laurels. As the academic year comes to a spectacular end for DU, here's a look at some of the fests and achievements by students of DU:
1. Bharat Ram Sports Meet, Lady Shri Ram College for Women
The NSO of the Lady Shri Ram College for Women organised the Bharat Ram Sports Meet from 26th-28th February in the college grounds. The meet saw heavy participation in the fields of athletics, archery, badminton, basketball, chess, judo, lawn tennis, table tennis, shooting and volleyball.
The basketball competition saw LSR and Ramjas College battle it out for the final title in Girls event, where ultimately, LSR came first. Kirori Mal College was declared the winner in the boys' event. In the chess tournament, LSR came first, followed by Laxmi Bai college in the girls competition and Deshbandhu College came first, followed by PGDAV College in the boys event. Overall, the entire sports saw heavy participation from various Delhi/NCR colleges.Read more about the Sports meet
here.
2. Erobern, Miranda House
Miranda House organised the third edition of its annual sports festival, Erobern, from 12th – 14th February 2015. Teams from 12 colleges, including those from Lady Shri Ram College, Jesus and Mary College , Gargi College and other women's colleges of Delhi, participated in the fest.
In a nail-biting chess competition, Miranda House was declared the winner. A competitive event for Taekwondo had participants from different weight categories fighting for the gold. It ended with Miranda House winning the overall first position, followed by Daulat Ram College and Laxmi Bai College with second and third position respectively. The college also organised , 'Balloon Pop' as an event for specially able students of Miranda House which included a 30 metre race and Shot Put event.Read more about Erobern
here.
3. YMCA Basketball tournament
Young Men's Christian Association (YMCA) succeeded in pumping enthusiasm through the veins of college students with their invitational Basketball tournament. The tournament began on 8
th
 September and attracted a huge lot of crowd which enjoyed the matches and cheered for their favorite teams. This six-day long tournament saw more than 30 teams (including teams of both girls and boys) from different colleges from University of Delhi, ITM University and Jamia Millia Islamia as well. Kirori Mal College (Boys) won the final match against Jamia Millia Islamia (Boys) with a lead of 11 points. On the other hand, girls' team of St.Stephen's College was defeated by the team of SRCC. Thus, Kirori Mal College and SRCC took away the titles with utmost pride and glory.Check out the details of YMCA's basketball tournament
here.
4. Festival of Youth Sport, Shri Ram College of Commerce
The Sports Committee, Shri Ram College of Commerce (SRCC) organised its annual sports event from February 3
rd
to February 6
th
 2015. Festival of Youth Sport this year had a footfall of over 15,000 students with participation by over 1800 athletes. It attracted students from around 70 colleges across India like IIMs, IITs, BITS and FMS in addition to other Delhi University colleges. In the Football final, SRCC triumphed over St. Stephen's College whereas the Basketball match saw old rivals Kirori Mal College (KMC) and SRCC fighting for the final trophy with KMC emerging as the winners. The star studded event was attended by Gautam Gambhir, the renowned Indian batsmen and Sushil Kumar, Arjuna Awardee and Khel Ratna winner for wrestling, amongst many others.Read in detail about Festival of Youth Sport
here.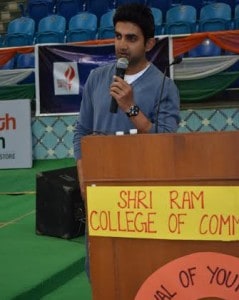 5.  Udghosh, Indian Institute of Technology, Kanpur
IIT-K organised its annual sports meet Udghosh'14 on the 25th of September to 28th of September. This is one of the largest sports fest conducted in Asia. Every year, around 300 colleges across the country participate in this fest. A lot of Delhi University's colleges participated in this event and won several accolades.Read in detail about the enormity of this fete
here.
6. Aayushi Gupta, Lady Shri Ram College for Women
Aayushi has been consistently winning gold medals at U.P. State Level Championships and North Zone championships as a shooter. She has been on the national team since the inception of her college life and has been winning over and over again since then. An Economics student, she has proven her mettle internationally as well and made everyone proud.
Read her detailed interview
here
.
7. Saachi Soni, Indraprastha College for Women
She's the youngest woman to have been selected for an expedition to Mount Everest by the Himalayan Mountaineering Institute. A second year student of IPCW, she's not only a dedicated Mass Media and Journalism student, but also a passionate mountaineer. Having already climbed other mountains like Mt. Bandarpunch, Mt. Renok and so on, getting an opportunity for climbing Mount Everest.
Read her detailed interview
here
. Overall, the students made Delhi University proud once again by shining at various competitions. Here's hoping that such enthusiasm and winning spirit continues in the academic year 2015-16.
Image Credits- Mugdha, Greta Khawbung for DUBeat
    ]]>