Miranda House is one of the premier colleges of Delhi University in all respects. From academics to sports to cultural activities, it has kept itself at the forefront of all fields since its foundation in 1948. It has served as the abode of learning and development for some of the strongest female personalities in India today who influence public discourse in and about the country. Here's taking a look at some of the strong women from diverse spheres of life who were once 'Mirandians':
 1. Brinda Karat
She is one of the most known female faces in Indian politics and activism. A communist politician, she also became the first woman member of the CPI(M) Politburo and served as the general secretary of the All India Democratic Women's Association. She graduated with a degree in Bachelor of Arts from Miranda House and then pursued a Masters in History at the University of Calcutta. She has been a prominent campaigner for Gender issues in the country from the beginning of her political journey and gained prominence in the campaign for reform of rape laws in the 1980s. She has authored Survival and Emancipation: Notes from Indian Women's Struggles which is a comprehensive book on the wide ranging concerns of the women's movements in India from a left perspective.
albooksinthecity.blogspot.com
2. Sheila Dixit
Another influential female politician from the ranks of Miranda House, Sheila Dixit is best known for having been the Chief Minister of Delhi for nearly 15 years. She pursued her Masters in History at Miranda House and today is one of Indian National Congress's most recognisable faces. She led INC to three consecutive victories in Delhi from 1998 to 2013. She also represented India on the U.N. Commission on Status of Women for five years, from 1984 to 1989. Controversies about corruption and some insensitive comments made about the Nirbhaya Rape Case have marred her image in recent years.
dhoomimalgallery.com
3. Nandita Das
A conversation about the most influential contemporary Indian women cannot miss out on Nandita Das. She has carved a niche for herself as an actress and director, hailed as a champion of alternative cinema about important humanitarian issues. She is known for her roles in the movies Fire, Before the Rains and for her directorial debut Firaaq, which was based on true stories, set in the aftermath of the 2002 Gujarat riots. She also has a Masters in Social Work and continues to advocate on issues of social justice. Among the many awards she has to her name, including the Filmfare awards and those won at International film festivals, she was also bestowed with the award of 'Knight of the Order of Arts and Letters', a very prestigious civil award by the French government and in 2011, she became the first Indian to be inducted into the Hall of Fame of the International Women's Forum, Washington DC.
 verveonline.com
4. Mallika Sherawat
She has scorched not just Bollywood but Hollywood screens as well, infamous for her strong expression of sexuality and for being one of the few Indian actresses to try and cross over to Hollywood. Born Reema Lamba, Mallika obtained her degree in Philosophy from Miranda House. She is famous for her bold roles in the movies like Murder, Pyaar Ke Side Effects and International films Hisss, The Myth and Politics of Love. She received Honorary Citizenship of Los Angeles in recognition of her career achievements and charity work. Mallika is known for her strong views and reactions, which saw her being embroiled in some controversies as well.
dailymail.co.uk
5. Anita Mazumdar Desai
Shortlisted thrice for the Booker Prize and recipient of the Sahitya Academy Award for her 1978 novel 'Fire on the Mountain', she is considered to be one of India's most influential female authors. Throughout her novels and short stories, she has been known to focus on the cultural and social changes in the Indian Society through relatable characters and their relationships. She is a graduate of English Literature from Miranda House and has won several awards for her work. A Fellow of the Royal Society of Literature and the American Academy of Arts and Letters, she is also the Emerita John E. Burchard Professor of Humanities at the Massachusetts Institute of Technology and writes for 'New York Review of Books'.
mid-day.com
6. Meira Kumar
Known for being the first woman Speaker of Lok Sabha, she is a 5 time MP and started out as a lawyer and diplomat. She served as the Lok Sabha speaker from 2009 to 2014. She has also served as Cabinet Minister in the Ministry of Social Justice and Empowerment. She is known for actively participating in movements pertaining to social reforms, human rights and democracy.
itimes.com
7. Anjolie Ela Menon
She is one of India's leading contemporary female artists and has had her work on display in solo exhibitions all over the world. She studied English Literature in Miranda House and talks of her time in the college fondly, remembering her teachers who were trained from Oxford or Cambridge and whose portraits she used to paint. She has represented India at various shows and was awarded the Padma Shri in 2000.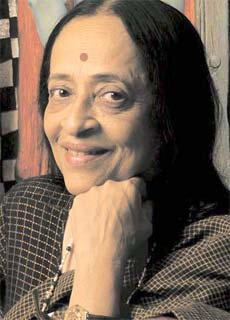 weeklytimesofindia.com
8. Mira Nair
One of India's most well known film-makers globally, Mira Nair is famous for her films The Namesake, 'Salaam Bombay!' and Monsoon Wedding which are known for their accurate portrayal of Indian culture to the rest of the world. She studied Literature at Miranda House before moving to Harvard to learn about documentary film-making. She also famously rejected the offer to direct 'Harry Potter and The Order of the Phoenix' stating that she was s"better suited to emotions, human beings, and less interested in special effects." Mira Nair has been the recipient of a number of honours globally, including those at Cannes and Venice Film Festivals. She was awarded the Padma Bhushan in 2012.
thecrimson.com
9. Anuja Chauhan
Often hailed as the best chic lit writer in India and "the only Indian writer of popular fiction really worth buying" (sic), Anuja Chauhan has authored three popular books- 'The Zoya Factor', 'Battle for Bittora' and ' Those Pricey Thakur Girls'. She is also behind many of the catchiest tag lines in contemporary Indian Advertising from her time working at JWT, including- Pepsi's 'Yeh Dil Maange More!', Kitkat's 'Kitkat Break Banta Hai' and Lay's 'Be a little Dillogical'. She was also one of the youngest Vice Presidents in JWT before resigning in 2010 to pursue a career in writing. She has regularly featured in 'Brand Equity' as one of the hottest creative directors in India. . Her book 'The Zoya Factor' has won Cosmopolitan Magazine, India's Fun Fearless Female award for literature in 2008 and the India Today Woman award for Woman as Storyteller in 2009. Her writing is often compared to Jane Austen's, especially for 'Those Pricey Thakur Girls' and she is known for her fresh 'Hinglish' dialogues and witty, colourful characters.
pinkvilla.com
10. Shovana Narayan
Known as one of the best Kathak danseuses in the world, Shovana Narayan is a holder of a Masters in Physics from Miranda House. She is well-known for her dancing and choreographing abilities, lauded for being the embodiment of the great artistic and social traditions of India. She has also trained several Kathak artistes, some of whom are leading artistes of the young generation. She has been an active researcher as well, having discovered 3 Kathak villages near Gaya with documentary and official records with 80 published articles in several journals and newspapers. She has mesmerised audiences globally and was awarded the Padma Shri in 1992.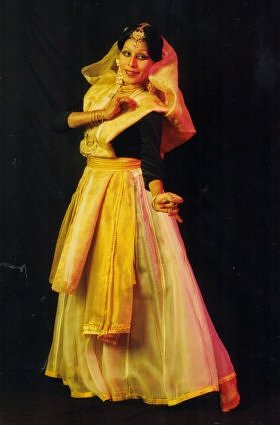 anandway.com
Shubham Kaushik