Mayanka Mukherji of Lady Sri Ram College has been included in the list of Rhodes Scholars for the batch of 2015. Mukherji, a final year student of Sociology has been chosen to pursue MPhil in Visual Material and Museum Anthropology. She has also been involved in theatre through directing, script-writing and acting, focusing on a corporeal dialogue with spaces.
Mayanka Mukherji and Sonali Chowdhry of Miranda House, who also won the scholarship will be heading to Oxford University in October 2015, along with three other candidates from India.
The Rhodes Scholarships are postgraduate awards supporting outstanding all-round students and enable two to three years of study at the University of Oxford, the oldest and amongst the most prestigious universities in the world. Along with coverage of the university and college fees at Oxford, the recipient of the scholarship also receives a monthly maintenance stipend to cover accommodation and living expenses that is funded by the Rhodes Trust. Although all scholars become affiliated with the residential college while at Oxford, they also enjoy access to Rhodes House, an early 20th century mansion with numerous public rooms, gardens, library, study areas and other facilities.
Alankrita: Your first reaction when you heard of it?
Mayanka: I was absolutely overwhelmed when I heard my name being called out. It seemed funny and strange to have pictured that one moment so many times in the past few months, and then finally experience it so tangibly. I was really, really glad. And more than anything, I was just dying to call my mother!
Alankrita: What are you going to pursue at Oxford and why?
Mayanka: I'll be pursuing Visual, Material and Museum Anthropology, through with I hope to evolve newer and more creative methodologies within anthropology by combining material narratives, spoken word poetry along with my love for filmmaking.
Alankrita: How early should one start planning to apply for a scholarship like the Rhodes?
Mayanka: I don't think one needs to plan for the Rhodes, if you don't count the application process which can be long and tedious. It is important to know what you want and seek it, but it's also important to do things purely to gain experience, to innovate or learn something new. However, in terms of concrete preparation, it is important to have a really good Statement of Purpose which really expressed who you are, and start collecting references from the very beginning!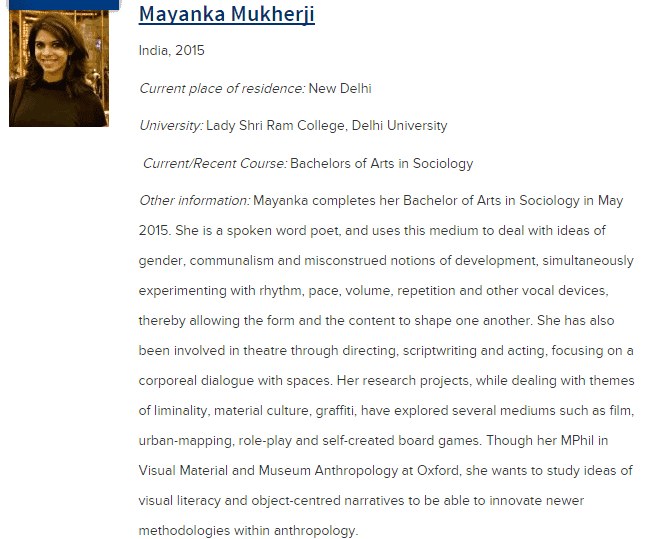 Alankrita: Tell us something about the interview, what kind of an interaction did you have with the board?
Mayanka: My final interview was actually tonnes of fun. I was asked to perform a poem. I did the one about my family, or rather the people and things and animals that live in my house. After that, I was asked several questions about my subject and my future goals through an extremely friendly discussion. The panel is diverse, and it is thus important for any candidate to be able to talk about their discipline in the simplest and yet complex ways, to be able to put it across in all its dimensions.
Alankrita: In college, apart from academics, what other areas have you been active in?
Mayanka: In college, I have been active in theatre, having acted in several plays, and currently directing the LSR annual production. I also write my own plays, and compose poetry with music, rhythm, pace and other sound devices. Forming a collective of spoken word poets, I also have my own small group, Mildly Offensive Content, and we perform all over Delhi, about twice a month. Out poetry deals with ideas of violence, gender, class, caste, communalism and often is extremely critical of the state and its ideas of development. In face one of my recurrent poems, called A Man with an Orange Heart, is a recollection of the Godra riots of 2002, based on my childhood doodles, hence, turning slam poetry into a project of documenting the repressed histories long silenced.
Alankrita: One Rhodes Scholar who inspires you/ who you have always respected or admired?
Mayanka: Girish Karnad, amongst others.
Alankrita: On graduating from Oxford, where do you see yourself next?
Mayanka: I'd probably want to pursue a D.Phil, but I am sure that I want to start travelling with my poetry, and hopefully my entire spoken word troop, Mildly Offensive Content, to be able to perform out poetry in different countries, weaving the poetic with the personal and the political.
DU Beat wishes Mayanka all the best for her future endeavors!

To know more about Rhodes Scholarship click here.
Feature Image Credits: Rhodes Scholarship Website.