TED talks are famous all over the world for their inspirational and innovative messages. What makes the concept even better is that videos of these talks are available for anyone on the internet to see, for free!
A TEDx, or an independently organised TED event, is a localised version of TED talks. TEDxKiroriMalCollege was organised on Sunday, 2nd February 2014 at Patel Chest Institute. Despite a slight delay in the proceedings, the speaker sessions interspersed with TED videos kept the audience engaged. The host for the day, Kunal Arora did a splendid job of keeping the participants entertained with his questions and timely jokes. The list of speakers included quite a few DU graduates like Lokesh Madan, Ankur Warikoo and Shifu Kanishka Sharma.
The first speaker to take the stage was Dr. Bindeshwar Pathak, a highly acclaimed social reformer, accredited with the success of sanitation projects like the Sulabh International. During his talk titled 'Restoration of Human Rights and Dignity of Untouchables', he elaborated on the various endeavours and projects he has undertaken to make 'untouchables' a part of mainstream society.
After that, Lokesh Madan, a corporate executive turned musician told the audience his story; how he started singing at the age of four, formed a band right out of school, gave all that up for a corporate career, and finally found his way back to music! His love for singing and the guitar was clear from his expression while he played a short tune from one of the songs his band Eka, had composed. His last bit of advice was to combine a dream with an idea on how to market it and how to manage it financially. A perfect blend of idealism and rationality!
The next speaker, internet entrepreneur and CEO of Groupon India, Ankur Warikoo took the audience through a story from his personal life aptly titled 'From Crutches to 21 kms'. His talk traced his journey from being bed ridden after getting a 'freak disease' in 2011 and then having to use crutches, to his decision of running in the Airtel Delhi Half Marathon in 2013. The message that he left the audience with was, that fear is self imposed-if we can create it, we can conquer it, too.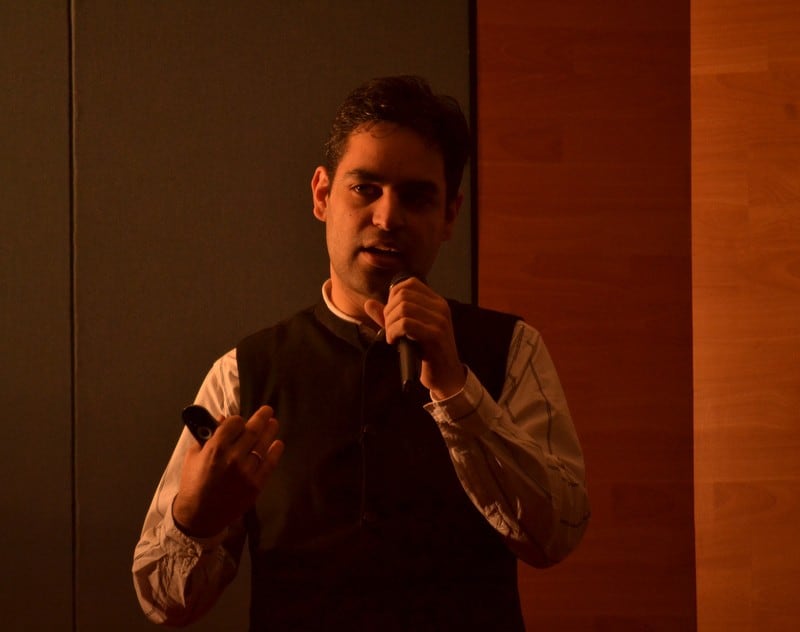 Next to take the stage was Manit Rastogi an architect and School of Planning and Architecture (SPA) alumnus. His talk was centred on the concept of 'The Architecture of Sustainability', primarily talking about how, if buildings and structures are built correctly, they can be completely sustainable in terms of energy, water and electricity usage. He also talked about his proposed solution to many of Delhi's problems (sewage treatment, pedestrian safety and pollution), all through design and architecture.
The session was followed by the screening of Harsh Bhogle's TED talk on cricket in India. The video led to a discussion among the audience members regarding the effects of the IPL on the sport as a whole. Post the discussion, the group broke for lunch. Before the next set of speakers took the stage, Digvijay Singh from the KMC music society sang a Nusrat Fateh Ali song that was highly appreciated by the audience.
Next up, Dr. Sunil Mittal, a psychiatrist by profession, delved into the latest frontiers of neuroscience and shared concepts such as 'shaping one's mind and brain' and Neuroplasticity, which proves that the brain develops all throughout the adult life.
Following him, Vaibhav Singh, a private equity professional delivered his talk on 'How not to lose the ticket after winning the lottery'. It was an engaging presentation on the possibilities that India's economy holds and how equity and capital can be channeled in a way that encourages growth.
Vinita Singh, the founder of We The People, talked about citizenship being a 24×7 job for all the citizens of a democracy like India. She equated the relation between citizens and politicians to one that is shared between employers and employees. In her words, 'If they are doing a bad job, the main reason is that we are sleeping on ours!'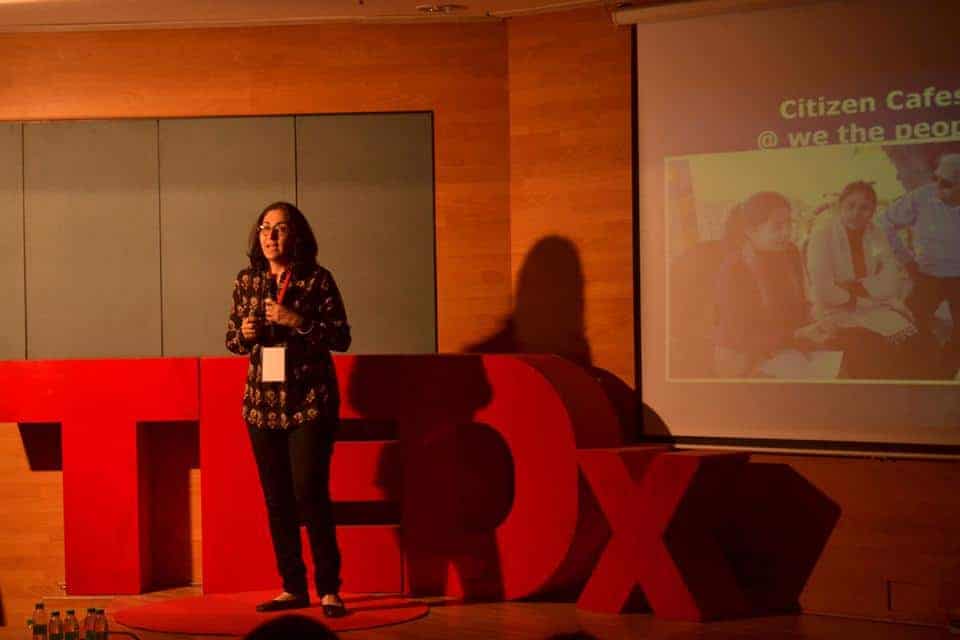 The next speaker, Timothy Wildgoose, a photographer who's come to India for a crowd funded photography and videography project, spoke about the power of connections, presence, yoga and meditation. He also made the audience laugh with his rather accurate guide on 'How to thrive in India'.
The final speaker for the day, and in my opinion the most awaited one, Shifu Kanishka Sharma, took the stage.  A martial arts trainer, he is the only Indian to have trained at the Shaolin Temple. His talk was very interesting (and slightly scary too!) as he demonstrated some quick moves and attacks on stage. He touched upon a few key lessons of martial arts and spoke of his mission to teach women's self defence in a practical and effective way in India.
The day finished on a high note with the Organising Committee taking the stage. 'TEDxKirorimalCollege started as a dream and each attendee and speaker was a part of it. This has been the best experience of my life', said Ashutosh Bhardwaj, the Curator and Organiser of the event. Pallavi Jain, a student of Hindu College said, 'TEDxKMC was the second TED event that I have attended and it was a Sunday well spent. My favourite speaker was Ankur Warikoo who narrated a personal anecdote coupling it so simply with subtle humour and an amazing video!'
Image courtesy: Blessjess Photography