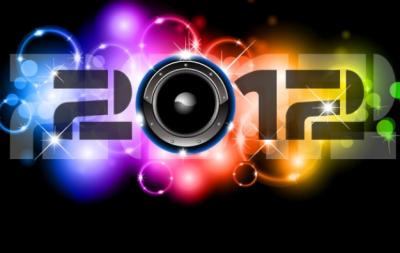 The last week of 2012 makes one contemplate on all the crazy stories, the never-to-be-repeated secrets of the year and the scares but it remains incomplete without a pop culture list of all that should have been seen and heard in this year. If you've been under a rock for the last year, the following is a quick recap of all that you should catch up on.
MOVIES:
Barfi! – A film that can teach you about the power of silence and relate to you in the unbound joy and love it captures – A movie worth watching again and again. I could break it down in the elements of the performances, the costumes and the dialogues or just call it one of the finest films the mainstream Bollywood cinema can call its own. It wouldn't be far from the truth.
The Dark Knight Rises – Fights still happen in campuses when people start pitting the last trilogy movie against the Dark Knight. The results are often inconclusive. Be it Bane, a weary Bruce Wayne who is forced out of retirement or Anne Hathaway as the Catwoman, the stellar cast of this film ensures that your popcorn is unfinished and your mouth is gaping wide open in the course of those two hours.
The Perks of Being a Wallflower – Stephen Chobsky's adaptation of his own novel details the story of a misfit who finds acceptance amongst a group of people in high school. Adventures, realizations and revelations follow. To the tunes of David Bowie and the Smiths.
Gangs of Wasseypur – An engaging film that scared professors and students alike by their vicarious enjoyment of the gory storytelling. A story set in Jharkhand is drenched in the rugged, earthy feeling of the villages and interiors of India captures all that is going wrong with the Indian system which often lies at the mercy of politicians and goons. A must watch for entertainment and information.
Hunger Games – The movie adaptation of the famous Suzanne Collins was much looked forward to, and did not disappoint. Gary Ross left no tool at his disposal unused to depict the savagery and brutality of a Capitol and a tale that was purely and beautifully just about survival.
The Avengers – Comic book fans were secretly cringing at the announcement of yet another multi-superhero film. The product surprised and left behind all expectancies.
MUSIC:
Gangnam Style – Not a personal favorite, but who are we to challenge the dominance of Korean pop or 950 million Youtube views?
Call Me Maybe – Any pop culture list of 2012 would find it hard to ignore the song that spawned thousands of Youtube covers, became a ringtone favorite and surpassed all languages and devices until it became a permanent fixture in our ears. This surprise hit from Carly Rae Jepsen is one that has to be heard despite musical sensibilities otherwise. (The writer promises to make this up with an indie music list later.)
Somebody That I Used to Know – Gotye's 2012 single put him on the map, made every person attempt to pronounce his name correctly and was often demanded to be played over and over again by wounded lovers at karaoke bars. A song that painfully details the breaking down of a relationship is one that was heard across the world.
Fun. (Some Nights) – The breakout 2012 album across all music critics' lists is one that isn't heard for lyrical depth, emotional catharsis but one that indubitably is 'fun'. A pop-rock band which creates anthems for everyday inspiration and can be danced down to, is one that topped all music charts and is definitely a pop culture favorite that cannot be ignored.