On 5th September, 2019, DU Beat conducted an interview with Akhil Bharatiya Vidyarthi Parishad's (ABVP) Vice Presidential candidate, Pradeep Tanwar to know him and his perspective regarding the upcoming Delhi University Students' Union (DUSU) elections.
Pradeep Tanwar, is a graduate in B.A. Programme from P.G.D.A.V College. He's currently pursuing his masters in Hindi from Deshbandhu College. He has been a part of ABVP since 2015, and believes his true interest lies in politics and solving students' problems.
What are the main issues you and your party will focus on for DUSU 2019? 
The main issues we will focus on are:
Metro concession pass: it's unfair to ask a student who comes from a middle-class family to spend so much on travelling. Our biggest fight is for metro concession passes.
Hostels in South Campus: Except Venky (Sri Venkateswara College), there aren't a lot of colleges that have hostels in south campus. We will work to establish these hostels.
To the common student, DUSU feels like an unapproachable political entity, what will you and your party do to ensure accountability to the students of University of Delhi?
I, along with other ABVP members, have went to each college to personally listen to the problems of students and solve them. Students get help from ABVP from the time they get their admission done to the date of their farewell. I will personally organise campaigns in each college to listen to students.
The incidents on Old Gupta Road and Hindu Rao Hospital highlight security concerns for those living in North Campus, what steps will you take to ensure safety and security on campus?
Of course, we're working towards making campus safer. We've made a committee to look into this, and asses the cases to make campus student-friendly.
Campaigning every year uses up a tremendous amount of paper for pamphlets, posters etc., which then leads to litter on campus, what is your say on the matter?
These are how elections take place, it has become a method by all parties. ABVP doesn't do littering as we're always fighting for a clean campus.
University of Delhi (DU) was recently declared an Institute of Eminence by the Union Government which entitles DU to a payment of a 1000 crores over 5 years, however,  the trend in 2019 in DU has been of increasing fees and hostel rates, why do you think this is so? And what will your party do to reduce fee hikes and hostel rates?
It's the staff and other people involved who are using this money for their own benefits. We're working constantly towards fighting fee hikes. We protest or petition, but we always get success for students. Deshbandhu College had raised its fees, we had protested there with the students.
The Lyngdoh Committee lays down 5000 rupees as the maximum expenditure amount, how does your party maintain it?
We always manage our campaigning under the budget. We follow all rules of the committee. ABVP works all year round so we don't require high campaigning.
Which element differentiates you from the other contenders for the post of Vice President?
What differentiates me, is my affiliation to ABVP. Students will vote for me as ABVP is the only party that works year-round for the students on a ground level, unlike other parties.
Last year, there were allegations of EVM tampering against ABVP, also to be noted, the EVM's were privately supplied and not by the Election Commissions, how do you plan to make sure elections are held fairly?
You ask this question to us on every meeting. I would like to inform that ABVP follows the rules of Lyngdoh committee very well. At this point, all other parties are non-existent and then they use these dirty tactics making politics intimidating for all.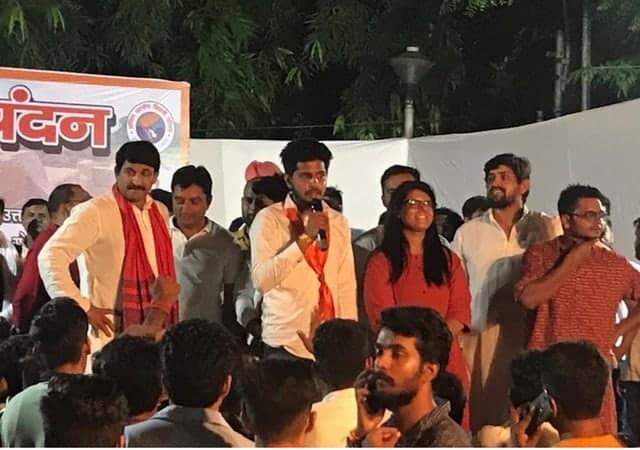 ABVP Panel
President: Akshit Dahiya, Ballot No.1
Vice President: Pradeep Tanwar, Ballot No. 5
Secretary: Yogit Rathi, Ballot No. 3
Joint Secretary: Shivangi Kharwal, Ballot No. 4
Feature Image Credits : ABVP
Chhavi Bahmba