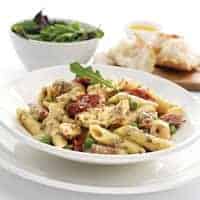 Welcome to the hottest food junction in the heart of the Delhi University-On the Go! It is definitely not your run-of-mill fast food joint; it definitely has a lot more to offer! The ambience is very cosy and youthful at the same time. Bamboo stools, graffiti splattered on the walls and the youthful chatter define this place. The place could have been more spacious considering its fan following, which seems to rise by the day! One would be amazed to know that the prices are very 'student-friendly', without comprising on the quality.
The menu is interesting and the names even more…! I Smooshies, bashed up potatoes and bruschettas are some of the names I am sure you have never even heard of, innovative right? Firstly, I suggest you to try the delectable 'Italian bashed up potatoes'. Potatoes coated with a creamy layer of Italian dressing are sure to tantalize your taste buds. After you have relished the potatoes, you could go for their grilled sandwiches and pastas. Pastas are definitely "value for money" and are an instant hit with the college-goers. The sandwiches, especially the "Mumbai street" and the "Country chicken" ones . The Mumbai street sandwich is a treat for the vegetarians and I could say one of the best veg sandwiches I have ever had till date.
Now, coming to the drinks I would advise you to avoid the "Smooshies". The name sounds exotic but the taste is very ordinary.The Mint lemonade is worth a try, with the subtle taste taste of 'pudina 'staying even after you have gulped it down. As far as the desserts are concerned, they are simply heavenly. All in all, a foodies delight!
Rating-3.5/5
BEST THING ABOUT IT-BASHED UP POTATOES AND PASTAS
WORST THING ABOUT IT-SHORTAGE OF SPACE