Bhartiya Janata Party (BJP) is promoting its Digital India campaign with full gusto- in all the wrong ways.
While, Bhartiya Janata Party, has been notorious for a couple of things, the most ridiculous of them all is the BJP IT Cell. The party is known to have a large social media team that works on sites like WhatsApp, Twitter, and Facebook to spread misinformation, slander, and rumors.
BJP seems to have it all figured out: the fastest way to get to the public now is to use social media. And while they already do have media houses in their pockets, social media is where everyone is. This is why, the large team is known to trend hate hashtags, share doctored videos and photos, create fake news, troll people online and even use bots to spread its propaganda. The IT Cell essentially functions like an army; it is an organized army of trolls, belonging to the party, always ready for an attack.
PM Modi is also infamous for following trolls, fake news, and threatening accounts. Kuldeep Bhandari, a man who proclaims to be a 'social media activist' at the BJP IT Cell, tweeted a photo of Trump pointing at Modi with the caption, "Ghar mein ghuskar kaise maarte hain mujhko isi ne sikhaya. (he taught me how to hurt people inside their own homes)" He is, unsurprisingly, followed by the PM.  "Mr. Modi is possibly the only leader in the world, who actually follows handles which give rape threats, death threats, actually put out incitement videos, peddle fake news," said Swati Chaturvedi, the author of I Am a Troll: Inside the Secret World of the BJP's Digital Army to CNN.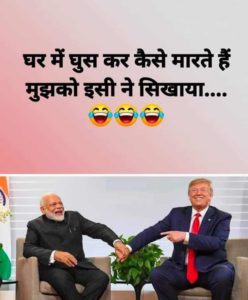 (Image Source: Kuldeep Bhandari)
The very head of the BJP IT Cell, Amit Malviya, had a twitter timeline selling pornographic content and tweets providing Hot Sexi Gerls Free before him getting this position with the party.
The IT Cell has always been very active on social media: its WhatsApp forwards remains one of the prime reasons why BJP gathered such mass support. However, it recently keeps coming in the limelight. After the anti-CAA protests countrywide, their presence online has intensified. In what appears to be their panicked and thoughtless reaction, they can be seen attacking and trolling anyone who goes even slightly anti-BJP. While a lot of times these trolls are genuinely far-right Modi-bhakts, it is also found that a lot of times they just happen to be unemployed people working online for a small stipend.
When Amit Shah created a new hotline for people to phone in and show their support of the Citizenship Amendment Act, thousands of tweets popped up sharing the number. These tweets offered 'free sex', hot girl pics, free coupons, free Netflix and amazon prime membership, and other such attractive offers to people who called the number. So much so that even the Netflix India official account tweeted and asked people not to fall for the scam and to "use someone else's Netflix account if you want free membership, like the rest of us." When the publication Boomlive called the social media head Amit Malviya regarding these activities, he "cut the call hearing our query", as reported by the site.
After Deepika Padukone was seen at a solidarity protest at Jawaharlal Nehru University (JNU) after the JNU violence orchestrated, allegedly, by ABVP, thousands of trolls lashed out on her, talking about boycotting her then-upcoming movie Chhapaak. Trolls all over India posted photos of them getting their tickets refunded; the catch? They all had the exact same seat number.
Anandi, a student of Kamala Nehru College said, "The cell is the living embodiment of being cheap and the level to which one can fall only to propagate lies and enforce their ideology on the public. False lies, rape threats, trolling, harassment, this is what the cell is synonymous with. When we asked for employment, this is not what we meant."
The BJP Delhi official twitter handle also trolled Arvind Kejriwal in the light of upcoming Delhi elections and tweeted 'memes' on him. These 'memes' showed the problems of the city as the 'art' and had pictures of the Chief Minister as the 'artist'. One of the tweets of this series, which ironically are pinned to their twitter page, came under fire for being Islamophobic as it showed a burning bus as the 'art' and Kejriwal in the Islamic Hat Taqiyah as the 'Artist'.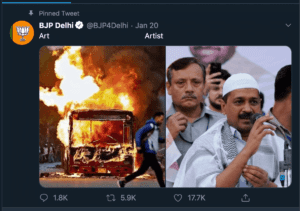 (Image Source: BJP Delhi)
"BJP IT Cell is clearly very ignorant considering the issues that come under the jurisdiction of the central government. BJP's twitter account trolled Kejriwal for Delhi's rising traffic problem while completely neglecting the fact that Delhi traffic comes under the central government's jurisdiction and they chose to stick to this even after some people pointed it out. I mean that's just stupid and a very condescending move on their part," said Suhani, a student from SGTB Khalsa College.
So, not only are their actions morally incorrect, but also illogical and ill-informed. But it is not as if people aren't standing up to this virus-like ecosystem.
Amit Malviya was in the news again for saying the Shaheen Bagh protesters were all paid Rs 500-700 by the Congress party to protest. For this statement, two women of Shaheen Bagh filed a legal notice under Section 500 of the IPC (Defamation) and demanded an apology and Rs 1 crore in damages from the social media head.
A trick learned from stan twitter, the best way to engage with these trolls is to not engage. Accounts like these thrive on visibility, and the more engagement they get, the more are their ideas promoted. Report and Block: that is the only way their impact can cease. And when science has developed antiviral medicines for actual overpowering viruses, what are a group of sheep-like humans in a virus-like colony.
Featured Image Credits: Dhruv Rathee
Satviki Sanjay