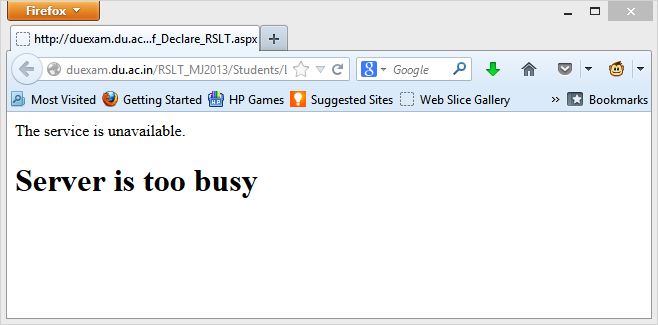 Delhi University declared the results of May/June 2013 examination for several courses on 2nd July. Twelve courses had their results announced leading to several hundred frenzied students logging on to the DU website to check them. Unable to handle the traffic, the site crashed. 'The web page is not available' is all that the students saw and no amount of hitting refresh helped.
"The fact is unless you check the result in the middle of the night when the traffic has thinned out, you shall be stuck up for at least forty minutes on the site." said a disgruntled Rahul Sharma of Venkateshvara College. Since the declaration, the site has been continuously crashing and the problem still continues.
Rahul's statement was reaffirmed when students reported on our Facebook post that after continuous trials that went in vain, few students were able to check the result at around 4 a.m. Once the normal traffic on the website came back, so did the crashing problem.
It is ludicrous that the website of one of the top universities in the country cannot even handle one fourth of the students it admits logging on to its server. The site definitely needs reform.
Update: The Delhi University result portal is now active. You can check your results here: http://duexam.du.ac.in/RSLT_MJ2013/Students/List_of_Declare_RSLT.aspx
https://dubeat.com/wp-content/uploads/2013/06/cutoff.jpg