Date: January 26, 2012. Day: Thursday, a holiday. The old generation of the country would say this is all how a 19-year-old would describe the day.
Switch. A 19-year-old clad in a khadi kurta and jeans along with his teammates, is performing a street play on 'Whistle Blowers' in a slum in north Delhi. Lavanya, another 19-year-old girl, from a well-off family, is teaching kids of sweepers and peons near Nehru Place metro station, while another group of 19 to 20 year olds is preparing for a flash mob in an east Delhi mall.
All these cases have one thing in common. People of the college-going age are taking up causes, and working to eradicate them.
Today's youth has long been tagged as the 'indifferent lot', obsessed with technology, clothes, flashy cars, money minded to the extent that they'd pursue their higher education from the country's top colleges and then go serve in the foreign land for the sake of heavy pay packages. This might be true for a percentage of the present generation, but the majority tells a different story. Street theatre, environmental activism, teaching underprivileged kids along with pursuing their own studies are only a few examples of the various ways by which students of the varsity are showing their patriotism. But if you go talk to them, they'd call it not flashy patriotism but would rather describe it as their duty.
Street theatre in itself is aimed at bringing to the fore a social cause and talking about it to the public. This year again, the Delhi University theatre circuit has seen a number of commendable street plays based on often-ignored issues like promotion of secularism, whistleblowing, and the problems faced by the people of north-east India.
SGTB Khalsa College's play, 'Dharma' is its students' initiative to promote secularism in the country. The play talks about the existence of unseen lines which prevent people from marrying a person of another religion, or worse, even visiting an area dominated by people of a religion whom they abhor. Intolerance towards other religions is an abomination that is prevalent especially amongst the people who call themselves educated. The play does not promote atheism or target any particular religious group, but is rather aimed at promotion of secularism amongst the people. "Religion is not a way to reach God but rather a way to live life. Religion dominates our life and through 'Dharma' we wish to promote religious tolerance amongst the people", says Kunal Arora, a member of Ankur, the dramatics society of SGTB Khalsa College.
The members of Verve, the dramatics society of Shaheed Sukhdev College of Business Studies, have made a street play on 'Tu maar de seeti' which literally translates into 'blow the whistle'. The play revolves around the concept of whistleblowing, which is the act of telling on all sorts of wrongdoers. Abraham Lincoln had once said, "To sin by silence when they should protest makes cowards out of men." Whistleblowing, rightly justifies this dictum, instead of being a passive observer, one should consider this active approach and raise his voice against all forms of oppression/injustice/wrongdoings. Another thing that instantly made these young men and women fall in love with whistleblowing as their theme is a song called 'Bilqis' by Rabbi Shergill. The song talks about the tragic fate of a few, then relatively unknown people, who were ruthlessly murdered for talking about the right things. A refrain from the same song goes, 'Jinhe naaz hai Hind par wo kahan the?' (Where were those who took pride in India?) All of the team members could easily and very strongly relate to this refrain and this has been an inspiration for them ever since.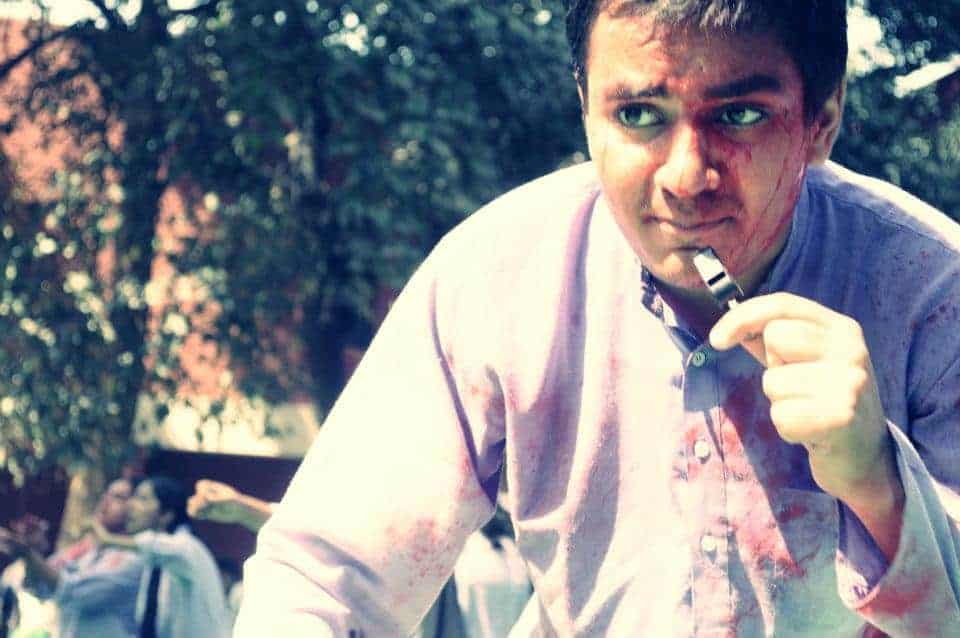 Another striking feature of this theme is its timing and its relevance. It comes at a time when the whole nation is riding on an Anti-Corruption, patriotic sentiment. This theme tries to make people realise that they are equipped and they can actually make a difference on an individual level. "The idea behind performing this play was never for garnering acclaim or winning competitions, it was more of an endeavour by a few college students to actually set things in motion and harness the power of street theatre to bring about change. As soon as we could, we took this act to the streets between ordinary people and tried to share our vision with them. This play has already been performed at Hauz Khas Village, Chandrawal Village and Green Park area in New Delhi. This is also our tribute to those martyrs who were killed for making the right noises", says Rohit Benival, a member of Verve, the dramatics society of SSCBS.
"Our biggest motivation is a sense of patriotism and consequently, the biggest reward is somebody actually absorbing the essence of our act. In our act, we use whistles as a symbol for raising our voices against all things wrong. The simple message that we try to communicate is: whenever you see something wrong happening, don't stay quiet, blow the whistle! After one of our performances in Chandrawal village, a kid, somewhere around ten- eleven years of age, came running towards one of our actors and said, "Can you give me your whistle? Our canteen-wala (School caterer) charges extra for bad food. I will blow the whistle"", he adds.
North-east India has always been considered a region unsafe to visit, while the problems of the people living there have always been ignored. "Our play, 'Ugte Suraj ka Sapna' talks about how the people of the north-eastern part of the country are still fighting for their existence in the "mainland India", as they say. It depicts the discrimination of the people of that specific region. It also discusses the loopholes in the constitution regarding that area. It shows the disparities between the rights of northeast people and the rest of Indians. The region has faced decades of ignorance from the media. None of the major movements have been covered by the media. It has failed to capture the 11 year long hunger strike/struggle of Irom Sharmilla against the law. The centre point of the play is that the common man of north-east India gets sandwiched between the pressure of insurgence and the implications of AFSPA and they still have hope for a new morning," says Ayushi Aggarwal, a member of Manchatantra, the dramatics society of SGGSCC. "It has been years and they haven't seen the dawn. It's high time for the sun to rise in the north-eastern part of the country. Our slogan is 'Save Democracy, Repeal AFSPA'", she signs off.
Lavanya Julaniya, a second year student of Miranda House has an interesting and inspiring story to tell. Lavanya attended the Global Youth Summit in London in January, 2009.
Global Changemakers was founded in 2007 when six young activists, brought together by the British Council, were invited to lend the 'voice of youth' to the Annual Meeting of the World Economic Forum. Since then, the network has grown to a community of over 730 Changemakers in 121 countries world-wide. The mission of the programme is to empower youth to catalyse positive social change and to bring together social entrepreneurs. It has expanded since its inception, and is now built on three pillars: Learning, Doing and Advocacy.
Amaani, meaning aspirations in Arabic was envisioned at the Global Youth Summit after seeing so many young people take action in their own communities to bring about a positive change. Amaani is a non-profit teaching initiative for disadvantaged children who do not otherwise have the means to obtain quality education. Amaani is supported by the British Council's Global Changemakers Programme and is collaboration with Leaps and Bounds institute.  Amaani breaks from the conventional class room teaching and classes are conducted with hands on models and experiments. Creative and innovative methods are used in order to facilitate growth in the child's knowledge and imagination. Fun workshops are conducted from topics ranging from subjects like astronomy, botany, zoology, history, geography, literature; all are part of the curriculum. A nature table, story time and celebrating festivals are integral to the program. It roughly takes about a month's time to complete one project. At present there are four centres running in New Delhi – evening classes for children of workers, sweepers, peons etc at St. Stephen's College, SRCC, Hansraj. The fourth centre is outside Nehru Place metro station where such workshops and teaching is organised for children who live in the nearby slums and often beg all day.
Rohit Beniwal, Kunal Arora, Ayushi Aggarwal, and Lavanya Julaniya are only a few names. There are thousands of more young people who in contrast to the general perception about the youth are coming forward to show their love for the country, and spreading out their message through their work.