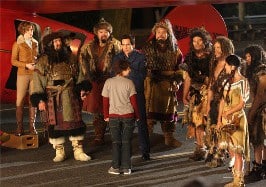 Directed by: Shawn Levy
Staring: Ben Stiller, Amy Adams, Owen Wilson, Hank Azaria, Robin Williams
Produced by: Shawn Levy, Chris Columbus, Michael Barnathan
There is something about sequels, something that makes you cross your fingers and send silent prayers to the heaven. There are not a great number of sequels which are better than their predecessors and Night at the Museum: Battle of the Smithsonian is sadly no different. There is little novelty in the follow- up and the plot could do with a little more semblance.
Larry Daley (Ben Stiller) is now a successful albeit an unhappy entrepreneur. Larry discovers that his old exhibit friends are being moved to the Smithsonian Institution in light of budget costs. Teddy (Robin Williams) tells Larry that the exhibits will be leaving without The Tablet, thereby ending their nightly shenanigans forever.
On receiving a call from Jedediah (Owen Wilson), Larry finds out that Dexter, the mischievous capuchin monkey stole The Tablet and an evil Pharaoh Kahmunrah is attacking them. What follows is a journey through Federal Archives, meeting with the moxie- inducing Amelia Earhart, conversing with a marble Abraham Lincoln, flying ancient planes and rescuing Jed from an hour glass. Throw in an assortment of oddball characters like the card- dealing Al Capone, small man Bonaparte, Darth Vader, Oscar the Grouch, and voila, you have a battle at hand!
Night at the Museum 2 is by no means great entertainment. The concept, exhibits coming to life at night, which was interesting the first time does not amaze anymore. The gags are forced and there are unnecessary corny conversations. However the movie's redemption lies in the lisping Hank Azaria, who is amusing as the evil Pharaoh. Amy Adams is spunky but Stiller falls short of expected standards. Robin Williams is wasted in a large and chaotic cast, though the three cherubs (voiced by Jonas Brothers) singing love ballads are refreshingly enjoyable. The special effects are brilliant, especially the touchy feely pink octopus. On the whole the movie is pleasant but hardly riveting.
Rating: 2/5